Home > India > News > First Look


Discuss |
Email |
Print | Get latest news on your desktop


SAARC ministers meet in Colombo to finalise summit

July 31, 2008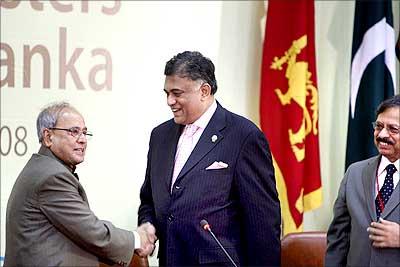 Under the shadow of the serial blasts in India, foreign ministers of the eight-member South Asian Association for Regional Cooperation met on Thursday in Colombo to set the agenda for the weekend summit aimed at boosting trade ties and combating the food and energy crisis.
External Affairs Minister Pranab Mukherjee, representing India, the outgoing chairman of SAARC, began the proceedings of the 13th meeting of the SAARC council of ministers by handing over the chairmanship to his Sri Lankan counterpart Rohitha Bogollagama.
In his opening remarks Bogollagama said he looked forward to transform SAARC into an organisation which implements it programmes in a more effective manner.

The theme of this year's summit is 'Partnership for our People'.
Terrorism [Images] could dominate the summit's proceedings as it comes on the heels of  a wave of bomb blasts in the key Indian cities of Bengaluru and Ahmedabad.
Sri Lanka [Images] which is fighting the Liberation Tigers of Tamil Eelam has made unprecedented security arrangements for the summit and is not taking any chances despite the rebels announcing a unilateral truce for the meet.
The meeting of the council of ministers, which is expected to continue till Friday afternoon, will discuss ways to launch the SAARC development fund and finalise a pact on regional legal cooperation to deal with criminal matters and a fund to manage the food and energy crisis.

"I look forward to the summit. I think it will be a successful summit," Pakistan Foreign Minister Shah Mahmood Qureshi told media-persons when asked about his expectations from the summit. 
"I hope the summit is outstanding," Bangladesh Foreign Advisor Iftekhar Chowdhury said.
Bogollagama said he looked forward to a very fruitful outcome from the summit.

Foreign ministers of all the members nations -- Afghanistan, Bangladesh, Bhutan, India, Maldives [Images], Nepal, Pakistan and Sri Lanka -- are attending the ministerial of the 23-year-old grouping. Nepal is represented by Finance Minister Ram Sharan Mahat.
Mukherjee is expected to meet his Pakistani counterpart Qureshi on the sidelines of the summit during which he is likely to send a strong message in the wake of the recent ceasefire violation by Pakistan along the Line of Control [Images] in Jammu and Kashmir [Images].
Special security measures are in place in and around Colombo where armed police, elite Special Task Force and tri-service personnel are a common sight in the heavily barricaded city.
Photograph: Jay Mandal