Home > India > News > First Look


Discuss |
Email |
Print | Get latest news on your desktop


Barack Obama does a Kennedy

July 08, 2008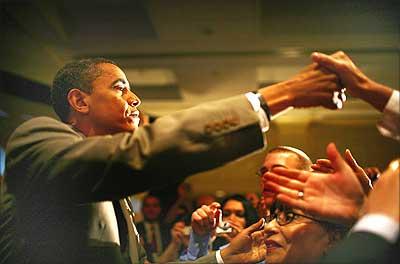 Throughout the primary process, US Senator and Democratic Presidential nominee Barack Obama [Images] has drawn comparisons to two famous 1960's era US politicians: US President John F Kennedy and Civil Rights leader Dr Martin Luther King Junior.
Monday, it was learned that Senator Obama's formal acceptance speech at the Democratic National Convention in Denver, Colorado will have parallels to famous speeches given by both men, perhaps intentionally.
In a formal release, the Democratic Party announced that, on the fourth and final day of the convention, Obama will leave the Pepsi Centre -- where the rest of the convention will be held -- and give a speech at nearby Invesco Field, quadrupling his live audience from 19,000 to more than 76,000.
Though it's unusual to shift venues mid-convention, there is precedent for the move. In 1960, John F Kennedy -- the darling son of the Kennedy family, who won the nation's heart to become the first Catholic US President -- accepted his nomination at the Los Angeles Memorial Coliseum, though the Democratic National Convention had been held at the LA Memorial Sports Arena next door.
Adding to the historic significance of the first nomination of an African-American for president, August 28, the proposed date of Obama's upcoming speech, will be the 45th anniversary of King's iconic "I Have a Dream" speech, which has often been credited as the turning point of the American Civil Rights movement. The next year saw legislation enacted that guaranteed equal rights for all Americans.
Despite only four years in national politics, Obama's prodigious oratory skills have already been showcased in several high-profile speeches, including a famous address to the 2004 Democratic National Convention, which many interpreted as Obama's tossing his hat into the ring for the 2008 election.
Of course, those on the opposite side of the political coin have charged Obama with empty rhetoric and grandstanding in place of substantive policy positions. This most recent announcement seems to play into that caricature.
Matt Burns, communications director of the Republican National Convention, responded to Monday's announcement with a statement of his own: "Not surprisingly, Senator Obama and his fellow Democrats are more focused on stagecraft and theatrics than providing real solutions to the challenges facing our nation. A change of venue for a political speech isn't the kind of change the American people deserve or expect."