Home > India > News > First Look


Discuss |
Email |
Print | Get latest news on your desktop


Basu turns 95; it's Red roses all the way

July 08, 2008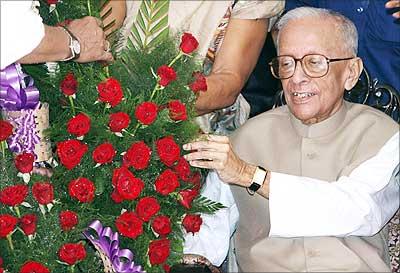 Call it a historic coincidence.
Jyoti Basu, one of India's tallest Marxist leaders, turned 95 on a day the CPM decided to pull out from the United Progressive Alliance government.
Even as the Left stepped out of a seemingly unworkable alliance, an emotional Basu told a large crowd assembled at his residence, "I have no idea how long I will live now but it is my wish to see the Left Front gets a chance to finish another term."
Many brought gifts for the former chief minister. A website on Basu was inaugurated by transport minister Subhas Chakraborty who was present on the occasion. Basu later unveiled a website for Pather Panchali, a social body which organises his birthday every year.
On behalf of Pather Panchali, Romola Chakraborty, wife of the transport minister, gifted a cheque of Rs 10 lakh to Basu which he handed over to CPI-M state secretary Biman Bose as a donation to the party fund.
Governor Gopalkrishna Gandhi and his wife visited Basu. A Chinese cultural troupe performed a dragon dance in his honour.
There were also cultural programmes by schoolchildren. Rabindrasangeet exponent Suchitra Mitra, veteran footballer Sailen Manna, fisheries minister Kironmoy Nanda and Kolkata mayor Bikash Ranjan Bhattacharya were present on the occasion.