Home > News > First Look


I will not go back to Gujarat: Bilkis

A Correspondent in New Delhi | January 21, 2008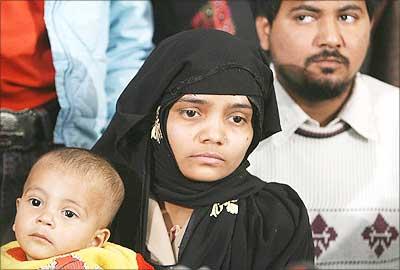 Bilkis Yahub Rasool, for whose rape and other charges a Mumbai court convicted 12 persons on Friday, has said she will not go back to Gujarat.
"I will not go back to Gujarat, though I love my village Randhikpur. My life will be in grave danger with the Narendra Modi [Images] government in power.  It is really sad that Modi is back in power. He has no right to remain power. His government must be overthrown," she said.
20 people were accused of gang-raping Bilkis and killing 14 members of her family. A few police officers and doctors were accused of protecting the accused. Of these, 12 were convicted by a Mumbai sessions court, where the case was shifted on the instructions of the Supreme Court.
Asked how she wanted the convicted to be punished, she said, after a bit of prodding from activists and lawyers sitting with her, "I want them to get the severest punishment. But I am leaving the exact quantum to the court."
Bilkis, who met journalists with her one-year-old child and husband in tow, refused to reveal the place where she has been living these days. She also lambasted Zaheera Sheikh, who turned hostile in a similar case, and dubbed her a 'betrayer of the Muslim community'.
She thanked those who helped her in the case and pointing out that she would appeal in the higher judiciary so that those accused who have been acquitted in the lower court will be also punished duly.
She also added how for the last six years she lived in fear, shuttling form one temporary home to the other, carrying her children. "The Gujarat government did not protect me. I was threatened", she said.
Even before Bilkis arrived at the venue, the organisers were distributing her "statement to the press", both in Hindi and English. Predictably, many of the points in her statement were missing in her real address.
Her press statement said the January 18 judgment "is a victory not only for me but also for all those innocent Muslims who were massacred and all those women whose bodies were violated only because, like me, they were Muslims. It is a victory because now, hereafter, no one can deny what happened to women in Gujarat in those terrible days and nights of 2002. Because now it will forever be imprinted on the historical record of Gujarat that sexual violence was used as a weapon against us".
Image: Bilkis holds her son Mohammad, while her husband Yakub looks during a press conference in New Delhi on Monday.
Photograph: Manan Vatsyayana/AFP/Getty Images