Home > News > First Look


Mumbai: Modi has a dig at Sonia

January 20, 2008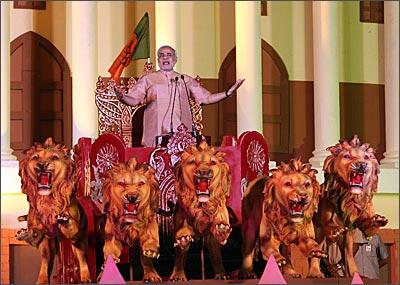 In remarks dripping in sarcasm, Gujarat Chief Minister Narendra Modi [Images] on Sunday night targeted Sonia Gandhi [Images] saying the Congress president fell ill after the party lost the assembly elections and had to be admitted to hospital.
The gloves were off yet again with Modi, who led Bharatiya Janata Party to a stunning victory in the recent elections, appearing to take off from where he left during the heated poll campaign in Gujarat when he targeted the Congress leadership.
"After the results were declared Soniaben fell ill and had to be admitted to hospital. The whole of Gujarat had prayed for her recovery... A lot happened," Modi said at a rally organised by the Maharashtra unit of BJP to felicitate the chief minister on the party's victory at the Shivaji Park.
The remarks which is expected to trigger another round of confrontation between the chief minister and the Congress leadership immediately provoked an angry reaction from Congress spokesman Abhishek Singhvi who said Modi was as "egoistic as ever and drunk with power" instead of being gracious in victory.
Modi said the Congress ploy of "abusing" him proved costly for the party in an apparent reference to the controversial maut ki saudagar (merchant of death} remark made by Sonia during the campaign.
"When they threw abuses at me I converted them to bouquets. When they threw stones at me I used them to build an edifice," he added.
Modi claimed that the Congress sought to blame the people of Gujarat for backing him. "I will not tolerate this in a democracy," he said.
Photograph: Reuben N V
Read More:
Gujarat Elections 2007
Analysis: The undercurrent favours Modi
The Modi phenomenon: Fading or being rekindled?
'If BJP wins Gujarat, we will get upper hand in Lok Sabha poll'