Home > News > PTI

Turbulent times for Goa government; Ministers revolt

January 16, 2008 17:30 IST
Last Updated: January 16, 2008 20:47 IST



The seven-month old Congress-led government in Goa [Images] was on Wednesday in the midst of a crisis facing revolt from a few ministers and a few ruling legislators, who are reportedly unhappy over its functioning, especially targeting Finance minister Dayanand Narvekar.

Sources said the Goa Appropriation Bill, 2008 could be under threat when it is taken up in the assembly, which is now in session if the mood of some of the ruling coalition's legislators, including the Nationalist Congress Party's ministers, is any indication.

In a House of 40, the ruling coalition has 23 members -- Congress (16), NCP (3), Save Goa Front (2) and Independents (2).

United Goans Democratic party's unattached legislator Atanasio Monserratte gives issue-based support to the government. The opposition has 16 members with BJP (14) and MGP (2).

The revolt apparently stemmed from growing opposition to Narvekar's policies.

With the numbers game in the assembly becoming crucial, a group of ministers, including Health minister Vishwajeet Rane, Atanasio Monserratte and Save Goa Front legislator Aleixo Reginaldo Lourenco, are understood to have come together to test the Digambar Kamat government on the floor of the House.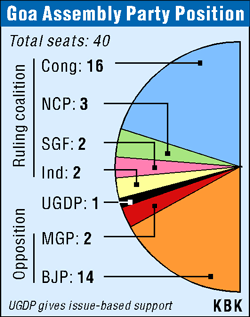 The state government, which has cancelled special economic zones in the state, is facing heat over the proposed Rajiv Gandhi IT habitat.
Narvekar, who is also IT minister, is supporting the park, which is opposed by Monserratte.
Senior Congress leader and Union Parliamentary Affairs Minister P R Dasmunshi is currently in Goa for a football event and is reportedly working on steps to defuse the crisis.
Sources said BJP may support the breakaway group to form an alternative government, if the chief minister is defeated on the floor of the House.
© Copyright 2008 PTI. All rights reserved. Republication or redistribution of PTI content, including by framing or similar means, is expressly prohibited without the prior written consent.