Home > News > First Look


Maya's double treat on her birthday

January 16, 2008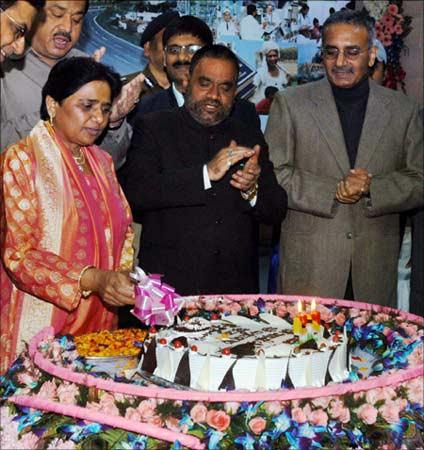 Uttar Pradesh Chief Minister Mayawati, who turned 52 on Tuesday, had two very important and far-reaching announcements to make on her birthday.
Celebrating her birthday in Lucknow, she told reporters that her party is in favour of dividing Uttar Pradesh into three pieces, provided the Centre agrees to it first and sends the proposal for consideration to the state assembly.
She said her government is ready to get a resolution adopted by the assembly which may enable the division of Uttar Pradesh -- Poorvanchal comprising the districts of the western region and the Bundelkhand region being the proposed states.
She reminded the journalists in New Delhi and Lucknow that though her party was in favour of smaller states, no state can divide the region on its own and that the Centre had to do it.
(Meanwhile, the Congress has overnight changed its view on the question of support to the idea of Bundelkhand. Two days ago, Uttar Pradesh Congress chief Rita Bahuguna Joshi had told journalists that her party supports the formation of a separate Bundelkhand state. But on Tuesday a senior leader in New Delhi said the party is in favour of setting up the Second States Reorganisation Commission.)
The second big news from Mayawati was about the inauguration of an ambitious infrastructure project called the Ganga Expressway. A report had claimed the project is worth Rs 30,000 crore but on Tuesday one of Mayawati's officers kept saying it is a Rs 40,000 crore project. Jaypee Associates, which is in the infrastructure business for decades, won the bid to build this 1000 km road project. The company has built the Narmada Dam in Gujarat, too.
The group with deep political connections outbid Anil Ambani's Reliance Energy [Get Quote], which had quoted more than double Jaypee's figure.
The Uttar Pradesh government says it is fully funded by private resources and Mayawati's government is merely a facilitator. The entire stretch is divided into four sectors -- Greater Noida, Fatehgarh, Dalmau, and Aurai to Balia in Eastern Uttar Pradesh.
The national highway authority, the planning commission and almost all the political parties in UP have raised various kinds of objections to the project. But Mayawati's assistant, Cabinet Secretary Shashank Shekhar assured, "The project will be conducted in transparent manner."
The Mayawati government will acquire 25000 acres of land for it. Her officers maintain that they will only acquire infertile land. This claim is very much doubted.
But, Mayawati hardly cares about her detractors concerns. On Monday, a slimmer, fitter and smiling Mayawati was in command and repeated not-so-humbly that if her party men show as much enthusiasm as they showed in election of UP she is ready to fulfill their wishes to become prime minister of India.
However, Mayawati didn't criticise the Congress as was expected. Rather, she looked pleased that Prime Minister Manmohan Singh [Images] called her all the way from China. She told journalists, "Even though the prime minister was busy in a meeting, he called me." Sonia Gandhi [Images] also called her at 9am, Mayawati said, adding that she thanked her for the wishes and enquired about her health.
Just like Gujarat Chief Minister Narendra Modi [Images], Mayawati has some innovative ways to "build" her image. Her image-making has been a work in progress for the past 20 years, but now, she has the difficult task of maintaining what has been cultivated in two decades. She is doing all those things to project her image of being powerful and being in command.
The political uncertainties of 2008-2009 are such that a huge media crowd follows Mayawati and Modi wherever they go. Mayawati's supporters are aiming for at least 50 Lok Sabha seats from Uttar Pradesh, said one of her relatives.
In front of some 100-plus journalists, which also included a few foreign correspondents, Mayawati spent 30 minutes as her advisor and confidante Satish Mishra, his wife, his four children, Mayawati's father, brother and his family sang 'Happy Birthday'.
She also said that every year, on her birthday, she will publish a volume of the "struggle of my life and the journey of the BSP movement". On Monday, she inaugurated the third volume of her book. Photographers jostled to shoot Mayawati's picture as she herself unveiled her book.
It was very clear that once people start speculating that you could become the prime minister of India, then you can force the national media to give you attention and command their time, too.
Reportage: Sheela Bhatt | Photograph: PTI