Home > News > First Look


Fire destroys 2500 shops in Kolkata

January 12, 2008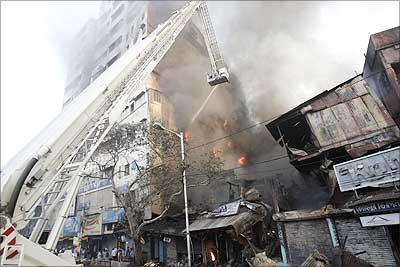 Over 2,500 shops and a few multi-storeyed buildings were gutted and property worth a few crores destroyed in a major fire that broke out at the Barabazar area in central Kolkata early Saturday.
Official sources said over 40 fire tenders were battling to douse the blaze, which broke out at the Jamnalal Bajaj Street in Barabazar at around 1:30 am .
The fire could not yet be brought under control completely as the site of the outbreak is a large commercial hub and a densely populated area, the sources added.
Disaster management teams and RAF had been deployed in the area.
Senior police officers were supervising the fire fighting and rescue operations. The ravaging fire is reported to have spread to adjoining areas, sources added.
The entire Mahatma Gandhi [Images] area was cordoned off and the people in the adjoining residential areas were being shifted to safer places.
However, there were no reports of any casualties or injuries so far.
Local people said shortage of water supply from the nearby Mullickghat pumping station to the area due to power cut compounded the problem for firefighters.
The exact cause of the fire was not yet known and the fire tenders were continuing their efforts on war footing.

Image: Firemen in action at Barabazar in Kolkata.
Text: UNI; Photo: Deshakalyan Chowdhury/AFP/Getty Images