Home > India > News > First Look


Discuss |
Email |
Print | Get latest news on your desktop


Israel attacks Gaza Strip, 155 killed

December 27, 2008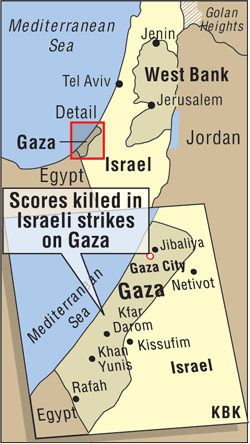 Israeli fighter jets on Saturday struck massively all over the Gaza Strip in an unprecedented operation targetting Hamas complexes and security compounds, killing at least 155 people and wounding hundreds of others, reports said.
Forty major installations of the hardline Islamic Hamas group,spread across the Gaza Strip, including the police headquarters were hit by the fighter jets which swooped down in waves triggering widespread panic in the coastal territory and chaos at the hospitals.
The attacks are in retaliation for senseless rocket attacks carried out by Hamas over the weeks and "will continue, will be expanded, and will deepen if necessary," a statement by the Israel Defense Forces (IDF)said.
"The strikes were based on precise intelligence collected during the recent months," it said.
The strikes come just days after the Israeli cabinet approved the raids to counter ongoing Palestinian rocket fire against communes in the western Negev desert.
Haaretz daily quoted Palestinian medical sources as saying that at least 155 people had been killed in the strikes, which began at around 11:30 am.
More than 200 people have also been wounded in the series of Israel air strikes, the Israeli daily said.
In a counter statement, Hamas vowed it strike back in revenge by launching new rocket attacks and sending suicide bombers to Israel.
"Hamas will continue the resistance until the last drop of blood," said Hamas spokesman Fawzi Barhoum, speaking on a Gaza radio station. The worst causalities were reported from the police headquarters and the dead included the Gaza police chief Maj Gen Tawfiq Jaber, witnesses told TV station. 
 A TV footage showed bodies of more than a dozen black-clad security men lying on the ground in one area, probably in the strike at the police headquarters. 
An Indian woman, Alka Toman, living in Gaza city told PTI that she is confined in her house but can hear "sirens and women and children wailing all around".
"There is no electricity here and I am sitting in the dark having closed all the windows. I hear explosions and wailing of sirens and women and children all around," she said.
Hamas took control overGaza after vanquishing forces loyal to Palestinian President Mahmoud Abbas in June 2006.
Palestinian Authority (PA) led by Hamas' rival faction, Fatah, based in the west Bank condemned the"aggression" and called for restraint in a statement issued on behalf of Abbas.
 Meanwhile, Israel went on a state of high alert instructing western Negev communities, who have faced
incessant rocket attacks from Gaza, to remain in their homes and hide in shelters every time the warning siren signals a rocket attack.