Home > India > News > Report


'Violin is my passion'

Shobha Warrier | December 24, 2008 19:04 IST
Last Updated: December 24, 2008 13:36 IST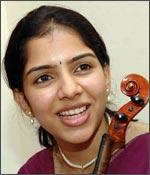 In this series, Contributing Managing Editor Shobha Warrier has been profiling Carnatic music's brightest stars.
In the concluding part, 21-year-old violinist Charumathi Raghuraman, who has been accompanying both young and established musicians for the last few years, says, "Music will always be my passion."
Video: Watch Charumathi play!
Violin and me
We used to live in Mumbai [Images] when I was young. My father was working with the Baba Atomic Research Centre then. My mother used to be a music teacher and my sister used to learn violin. So, I grew up listening to her and watching her play the violin. I used to imitate my sister with a scale and a pencil as my violin. So, my parents felt it was time to put me in a violin class too.
When I was five, I started learning from N Krishnan. Nobody forced me to learn violin. On the other hand, I used to be playing the violin all the time. My parents had to ask me to stop! Somehow, I liked the sound of violin.
In my first class, when my Guru asked me to play sa… pa… for half an hour I felt very angry. I thought he would teach me to play 'something'! Actually, I had already learnt the basics from my sister. I wanted to learn higher things like varnam, keerthanam, etc.
As I learnt violin, I also learnt vocal also from a guru.
Moving to Chennai
When I was eight, Sangeeta Kalanidhi Prof T N Krishnan had come for a workshop in Mumbai. My parents took me to him, and I played in front of him. After listening to me, he said, 'Why don't you come to Madras and learn violin? After that, every month, I used to take leave from school, come here and learn violin from him. And I enjoyed learning from a guru like him.
T N Krishnan sir felt we should shift to Chennai if I really wanted to concentrate on my violin. Ten years ago, my parents decided to shift base to Chennai. And that was for my sake. I was 11 years old then. Now I realise that was the best thing that has happened to me.
Chennai is the place to be in if you wanted to learn Carnatic music. Unlike Mumbai, the atmosphere in Chennai is musical. You could listen to Carnatic music everywhere.
First concert
Though I am learning both vocal and violin, violin comes more naturally to me. So, I chose to concentrate on violin.
My first concert was with my Guru when I was 10 years old. One morning, as usual, I had gone to his place to learn violin, and he asked me, 'What are you doing this evening? I said, 'Nothing special'. He then said, 'Come and play with me in a concert'.
He didn't tell me what he was going to play. Before the concert, I asked him, Sir, enna vasika poringa? He asked me, 'naan enna vasichalum, nee vasippe illiya?' ('Sir, what are you going to play?' 'How does it matter? You can play anything I can'
He started with Bhairavi varnam. I must say, he encouraged me a lot in that concert, a person of his stature giving a 10-year-old such a chance!
I was too young to be tense. On the other hand, I was very excited. After the kutcheri, he said, nalla samalichittiye!
The review that came in The Hindu was very encouraging. It was a great boost.
I played a few more concerts with him before accompanying other artistes.
Times have changed
In the last few years, many young musicians have entered the field, and I feel this is the best time for youngsters. There are a lot of avenues for young people. There are many slots for young musicians at various sabhas which is really good. Rasikas are also curious and ready to listen to new musicians.
If you go to the concert of a young musician, you will see that 70 per cent of the hall is full of youngsters. Unlike earlier times, musicians are very friendly and understanding of their rasikas and among themselves.
Meeting MS Subbulakshmi
It was a common friend of my mother who took us to meet MS amma. I was 12 or 13 at that time. After I played my violin, she kissed me on my forehead and said, 'Romba nalla vasikkare'. It was a great experience.
When I met Lalgudi mama, I introduced myself and touched his feet. I haven't got a chance to play in front of him. Hope I will get a chance to do that. It is a dream of mine.
Friends
My friends have a taste for classical music and they come to my concerts. They get excited when they see a write-up about me in a newspaper. I also play violin and participate in a lot of cultural activities in college.
I hang out with friends when I have free time. We go to coffee shops, go for movies, watch cricket and tennis. I play table tennis. I listen to a lot of music, that too full volume! Yes, it is mainly Hindustani classical and ghazals. I am like any other 21-year-old when I am not playing the violin.
Photograph and video: Sreeram Selvaraj