Home > India > News > Report


Discuss |
Email |
Print | Get latest news on your desktop

Debate: Has middle-class activism made politicians irrelevant?

December 11, 2008 17:58 IST
Last Updated: December 11, 2008 19:07 IST



"There can be little doubt their anger has got the government rattled, but unless the middle classes join politics in some way, sustaining their movement won't be easy," says Milind Deora [Images] Lok Sabha MP of the Congress Party


"As the middle class gets bigger, its interests will take centrestage--in any case, it will keep us on our toes. But if this is to be sustained, the middle class needs to join the process of politics."

 


"There can be little doubt that the kind of reaction and involvement of the upper and middle classes that we saw after the Mumbai terrorist attacks is a good thing. It has forced the political class, of which I am a member, to be more vigilant and made them aware that they cannot take the people for granted. The middle classes may have done this because the terror attacks have come a lot closer to home, but what is more important is their reaction, and not the reason for their behaviour. While middle class issues have always been important in cities like Delhi [Images], Bangalore and Mumbai, it is obvious that middle class issues will start taking centrestage in other parts of the country as well, as their numbers increase and all figures show the middle classes are growing much faster than other groups of people are."


"But I would like to take this opportunity to make a few additional points. Due to their extreme anger and hurt, perhaps, the middle and upper classes gathered at the Gateway of India [Images] were not able to come out with a coherent strategy, arguments and debate. I would have liked them to react by asking the government for what it planned to do on the issue of terror camps in Pakistan, on the issue of a single federal agency, of why the Mumbai police was ill-equipped, of whether a Department of Homeland Security would be a better idea, of what Obama [Images] needs to do; instead the slogans were about whether we should pay taxes, about bombing Pakistan, about whether we should vote. When these classes talk of bombing Pakistan, they have to be aware of what the final consequences of this will be--for instance, is breaking up Pakistan in India's interests? This is the elite of the nation, these are educated people who can teach us all several things."


"Perhaps I'm being harsh since the circumstances were so completely different from what we've imagined in even our worst nightmare. But if the middle classes have to become part of the process of putting pressure on the political class, we have to get the debate back on track--if this doesn't happen, the middle and upper classes will lose the clout they just demonstrated to us."

"Also, since politics is eventually about numbers, the middle classes need to get out there and vote if they are to be counted--if as many came out to vote in Bandra as they do in Dharavi, there can be little doubt their impact would be different. At the end of the day, democracy will move on, good people will get elected and bad people will get elected; episodic protests of this kind keep us on our toes, but they cannot be sustained beyond a point; the middle and upper classes need to join the process of politics if their impact has to be long-term. That said, when

India

's educated classes come out on the streets, it is important that we all work together to bring about change."

 

(As told to Sunil Jain)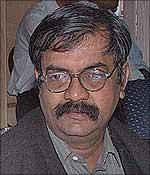 "In the past, as in the freedom struggle, middle class activism worked as it was linked to the goals of major political parties. This is no longer true and this is why this activism will not last for long," says the Communist Party of India-Marxist's Nilotpal Basu

"It has become quite fashionable to counter middle class activism with the activities of established political parties. This trend has been gaining currency from some time now. And it had reached a crescendo in the wake of horrific terrorist shoot-out and siege in Mumbai. It is worthwhile to examine the concepts which determine the matrix of such a counter position."

"It is obvious that given the nature of a political party, without a certain degree of continuity and consistency to realise its objectives, it is doomed to become irrelevant. As opposed to the notion of sustainability, if not permanency, which one can attribute to a political party, middle class activism is essentially suggestive of an instantaneous character almost like a flash in the pan."

"Middle class activism has in the past made important contributions in the forward movement of human societies. In India, the middle classes which emerged with the establishment of a modern education system and blossomed with the inception and growth of universities played a significant role in our freedom struggle. Though the freedom struggle eventually saw the mobilisation of wide sections of Indian masses including the under-classes like the peasantry and labour, the leaders and activists were essentially drawn from the middle classes. After independence, as well as at different critical junctures of political and social life, fired by a sense of idealism, middle class youth have energised the strivings for change. This was particularly evident in the '60's, in the west, in the protests against the Vietnam War; and in India, against the imposition of the Emergency in the '70s."

"But what is the conspicuous characteristic of such activism of the middle classes is that they were not autonomous in nature. Essentially they were in conjunction with the more sustained and long-term programmes of political formations."

"But the current spate of middle class activism and especially those which are being posed as a counter to the activities of political leaders and parties are at odds with any long term vision of change. Fired by sporadic urge to respond to immediate and doubtlessly negative developments like the abuse of power by the high and mighty or the ineptitude of the system, such activism is driven by a fit of mad and blind rage."

"The inspiration and the forms of such activism are heavily drawn from contemporary cinema based on highly romanticised vision of change. Candle light processions, drawing from the ranks of social elite, condemning everything around ultimately ends up with a sense of frustration and cynicism without a clearly defined vision/programme. Such sporadic and instantaneous actions cannot be sustained, let alone overcome the injustices which the present system breeds."

"The search for a political party which can fire the imagination of these otherwise well-intentioned middle class will have to continue--a political party which can remove the reasons for their agitation. Obviously, such a course will not be benefited by a corporate-driven media limelight."
Powered by
Email |
Print | Get latest news on your desktop