Home > India > News > First Look


Discuss |
Email |
Print | Get latest news on your desktop


Image: Deshmukh and Chavan together

December 06, 2008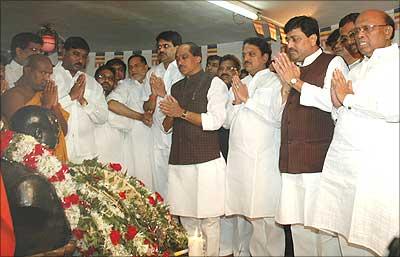 In the wake of the recent terror attacks, security in the city has been beefed up as lakhs of patrons gathered today to observe B R Ambedkar's 'Mahaparinirvan Divas' at Chaitya Bhoomi in central Mumbai.
Around 32 CCTVs have been installed from Dadar railway station in central Mumbai to the Chaitya Bhoomi in Shivaji Park, where people are paying tributes to Ambedkar on his 52nd death anniversary, for surveillance purposes.
A force of more than 1,500 armed policemen has been deployed on terraces of high-rise buildings in the area.
Outgoing Chief Minister Vilasrao Deshmukh [Images] and Chief Minister-designate Ashok Chavan visited the Chaitya Bhoomi to
pay tribute to Ambedkar on his death anniversary.
The Brihanmumbai Municipal Corporation (BMC), which looks after the entire arrangement at Chaitya Bhoomi, has also made special provisions for followers who have been gathering here since yesterday to pay tribute.
 Crowds, however, seem to be lesser in number this time as compared to previous years. The civic body has also made available basic amenities like tents, toilets, mandaps, dust bins, lighting and water facilities. It has also placed additional dustbins and made provisions for more toilets.
Image: Ashok Chavan [Images] (second from right) with Vilasrao Deshmukh at the Chaityabhoomi on Saturday
Text: PTI; photograph: Sandeep Mahankal