Home > India > News > First Look


Discuss |
Email |
Print | Get latest news on your desktop


Hyderabad comes to a standstill on Black Day

Mohammed Siddique in Hyderabad | December 06, 2008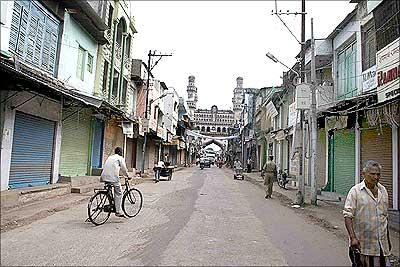 Most parts of Hyderabad remained shut on Saturday after several Muslim organisations,  including the Majlis-e-Ittehadul Muslimeen, called for a strike to mark the 16th anniversary of the demolition of Babri Masjid in Ayodhya.
 
Shops remained closed and roads wore a deserted look in the old city, where thousands of policemen, along with two companies of the Rapid Action Force, maintained a tight vigil.  All educational institutions, business establishments and banks also remained closed.
 
When a local organisation Darasgah-e-Jehad-O-Shahadat tried to take out a rally, in violation of the prohibitory orders, DJS President S Mahbub Ali and many of his supporters were taken into custody.
 
Though the DJS organises a rally every year on the anniversary of the Babri Masjid demolition, it was not allowed this year to avoid any disturbances, following the terror attack in Mumbai.
The police did not allow protestors to put up black flags on the roads and junctions, but people put them on their rooftops to protest against the demolition.
 
Hyderabad Police Commissioner B Prasad Rao said that the policemen, including 70 platoons of the AP Special Police, will remain alert till Sunday morning and prohibitory orders will continue till then. "Our focus is on the communally sensitive areas," he said.
 
Police pickets were deployed in sensitive areas like Moghalpura, Hari Bowli and Sutan Shahi.
Mahbub Ali, who was taken to Goshamahal police stadium after the arrest, warned that the country will continue to witness terrorist attacks until justice is done and the Babri Masjid is reconstructed at Ayodhya.
"The terrorists will continue and grow till the mosque is reconstructed," he said, evoking strong protests from the Bharatiya Janata Party. BJP's legislator G Kishan Reddy demanded Ali's arrest for making anti national remarks.
 
The Vishwa Hindu Parishad and Bajrang Dal, on the other hand, celebrated the day as 'Vijay Divas' by distributing sweets among their supporters and organising poojas.
Other parts of the state, including the districts of Adilabad, Nizamabad, Karimnagar, Warangal, Mahbubnagar, Nalgonda, Kurnoo, Anantapur and Guntur, observed the strike and demanded the reconstruction of Babri Masjid.
 
MIM President and Hyderabad Member of Parliament Asaduddin Owaisi alleged that the Congress party, which had promised to reconstruct the mosque, had cheated the Muslim community by not keeping its word even fifteen years after the incident.
Image: Hyderabad wore a deserted look on the 16th anniversary of the Babri Masjid demolition
Photograph: Snaps India