Home > India > News > First Look


Discuss |
Email |
Print | Get latest news on your desktop


Terror @ Taj: Malaysian woman still missing

December 02, 2008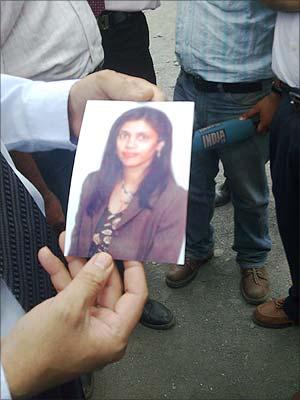 Days after the standoff between terrorists and NSG commandos at the Taj Palace hotel came to an end, Hemalatha Kasi Pilai, a Malaysian, is still missing.

Hemlatha works with Hannover Rich, a German Company, as an underwriter and was at the Taj hotel [Images] for an official meeting.
Hemalatha's husband Sivakumaran landed in Mumbai late Friday evening to find his wife missing.

Sivakumaran said, "My wife has a heart problem and high blood pressure, and I only hope that she is fine somewhere. I am taking media's help to find my wife."
He also confirmed, "I last contacted her on Wednesday night. She continued to be in touch with her German colleague in the adjacent room via the intercom."
Malaysian Consul General Zaidi Abdullah was also present to extend his help and said, "We have checked JJ, GT and Nair Hospitals, but couldn't find her. One of the doctors says he has seen her at the Jaslok hospital. If any of you come to know of her please contact the Malaysian Consulate in Mumbai at the given numbers and inform us."

Consulate General of Malaysia can be contacted at:
Phone: 022-26455751/52
Fax: 022-26455750
Coverage: Terror Strikes at Mumbai's Heart

Text & Photograph: Nithya Ramani