Home > India > News > First Look


Discuss |
Email |
Print | Get latest news on your desktop


Saving a tribal child

A Ganesh Nadar in Melghat, Amravati district, Maharashtra | August 22, 2008

The child was shivering. It could hardly breathe and was wheezing for air. The doctor decided to put the baby in an incubator. Before placing the infant inside, he switched the incubator on to check it. Then he cleaned it with a dirty cloth.

He then picked the three-month-old baby and carried him to the incubator. Just then the electricity failed. But a distraught Dr Khan did not flinch. He put the child on a bed, grabbed the shawl the baby's mother was wearing and wrapped the child in it.

He leapt to open the window to let some air in, but finding it too cold, he shut it. On finding that blocked the outside light and left the room in darkness Dr Khan opened one window shutter to let in some light.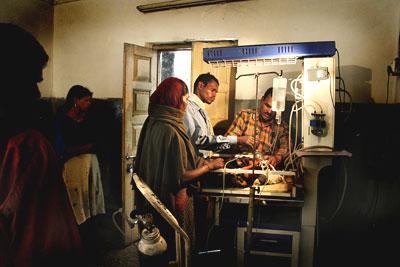 Fortunately, the power returned in 20 minutes. The child was placed in the incubator. Now he had a chance of survival.
117 children have died of malnutrition in the Melghat area in Amravati district in rural Maharashtra. This child narrowly missed joining that statistics that day.
The infant's name is Mangesh. His father Ganju Mishra and mother Ramya stood stone faced. Their grief obvious and their helplessness emphasised. But they did not cry aloud, even their tears did not flow.
"They brought him here half an hour back," says Dr Khan. "The child was in shock. It had stopped breathing. Now he has started breathing. He has to stabilise. We have put him on oxygen and glucose. The incubator too will help. But I really wish they had brought him on the first day. He has been sick for three days and they brought him here on the third day."
The mother and father did not react to what the doctor said. They just took turns holding the child's hand, preventing him from shaking his arm. There was a glucose drip being given into his tiny hand and the doctor had told them that the baby's hand should not shake.
The hospital was the primary health centre in Churni, Chikaldhara taluka, Amravati district, north Maharashtra.
The talukas of Chilakdhara and Dharni are known as the Melghat area. Mel Ghat means the place where mountains meet.
200,000 Korku tribals live here. Among them are 35,000 children. Since April 1, 2008, 117 children have died of malnutrition and 51 neo natal babies have died.
Malnutrition is a word commonly used and heard by everyone, but the causes of it have not been analysed. The causes are many, but the main reasons are poverty, lack of awareness, lack of infrastructure and superstition.
There are 11 primary health centres in Melghat area and only three doctors with MBBS degrees. The rest of the doctors are Ayurvedic doctors with BMS degrees. Dr Khan is one of them.
Dr Ravindra Koelhe, who has been working in that area for 24 years, says, "Do not discount BMS doctors. They too study medicine for six years like the ones with an MBBS. Their presence here is helping the tribals."
That day Dr Khan saved Mangesh's life. In Amravati's long history of infant deaths, that was a blessing, a relief.
Reportage: A Ganesh Nadar in Melghat, Amravati district, Maharashtra. Photograph: Uttam Ghosh