Home > India > News > First Look


Discuss |
Email |
Print | Get latest news on your desktop


Image: When Obama met McCain

August 17, 2008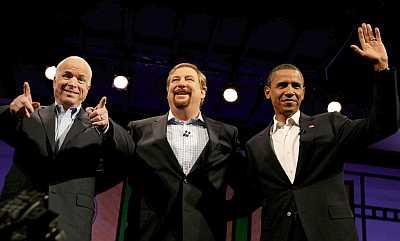 Republican Presidential candidate John McCain [Images], pastor Rick Warren and Democratic Presidential candidate Barack Obama [Images] greet the crowd before the start of the 'Civil Forum on the Presidency' at the Saddleback Church in Lake Forest, California on Saturday.
India@61: Obama, McCain shower encomiums
Obama and McCain participated in a town hall style meeting moderated by Saddleback Church pastor Rick Warren.
Obama and McCain shook hands and hugged briefly during the two-hour discussion.
Photograph: Justin Sullivan/Getty Images