Home > India > News > First Look


Discuss |
Email |
Print | Get latest news on your desktop


Georgia row brews into US-Russia showdown

Rediff News Bureau | August 11, 2008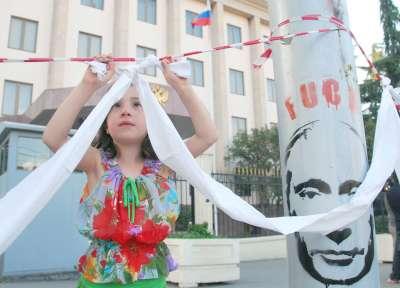 The crisis in Georgia is brewing to a major showdown between the United States and Russia [Images].
There is no let-up in violence in Georgia despite a ceasefire offer by Tbilisi. Russia, media reports say, has continued its air raids, inviting criticism from the United Nations and the US.
Russia took control of the Ossetia, leading to unprecedented protests across the country.
The UN Security Council has witnessed perhaps the fiercest verbal clash between American and Russian ambassadors since the end of the Cold War as the US accused Moscow [Images] of seeking regime change in Georgia and called for an immediate ceasefire.
A BBC report said Vice President Dick Cheney told Georgian President Mikhail Saakashvili in a telephonic conversation that "Russian aggression must not go unanswered".
US Ambassador Zalmay Khalilzad's charge that Russia is waging "terror" against Georgian people brought immediate angry response from Moscow's Vitaly Churkin.
"This is completely unacceptable, especially from lips of a representative of a country whose actions we are aware of in Iraq, Afghanistan and Serbia," Churkin replied.
Despite fourth meeting in three days, the Council failed to reach a consensus on a presidential statement on the issue.
The statement requires consensus and this has left the US with little choice but to move a resolution condemning the Russian action and calling for ceasefire despite Moscow having veto which could kill the resolution.
But diplomats said if it gets a majority of votes, it would put a sort of moral pressure on Russia.
Khalilzad said he would meet with his Western colleagues later to finalise the draft resolution that would call for "an immediate ceasefire and withdrawal of all forces to the status quo" in the breakaway Georgian enclave of South Ossetia.
With PTI inputs
Image: A Georgian girl sticks a ribbon near a graffiti of Russian Prime Minister Vladimir Putin [Images] during a protest against its aggression in front of the Russian embassy in Tbilisi on Sunday.  A widely distributed anonymous text message sent to cellphones users in Georgia called for a mass rally in Tbilisi on Monday.
Photograph: AFP/Getty Images.