Home > India > News > First Look


Hamid Karzai escapes assassination bid

April 27, 2008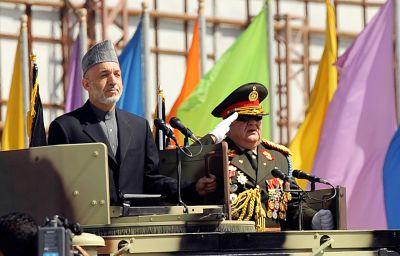 Afghan President Hamid Karzai on Sunday survived an assassination attempt by suspected Taliban militants in Kabul at a high-profile military parade, with explosions and gunfire, killing at least one and injuring 11 including lawmakers.
Karzai as well as scores of ministers from his Cabinet and foreign diplomats including the US ambassador escaped unhurt from the attack at the parade, organised to mark the 16th anniversary of the end Soviet-backed rule in Afghanistan.

At least one person was killed and 11 were hurt in the attack, state run Bakhtar News Agency reported.
Security forces whisked 50-year-old Karzai away from the scene. Two lawmakers were reported to be among the wounded.
A Taliban spokesman claimed responsibility for the attack and said it had deployed six militants, with suicide vests and guns, to target the president.
Karzai has survived at least three previous assassination attempts but this was the first attempt on him in the capital. He appeared on television within an hour of the attack and told the country that everything was fine.
"The enemy of Afghanistan, the enemy of the security and development of Afghanistan, tried to disrupt the celebration and tried to create fear," he said, adding, "Fortunately, the Afghan security forces surrounded them and some of the suspects were arrested, and, thank God, now everything is all right and the people of Afghanistan should be calm and confident."
Image: Karzai at the military parade, minutes before the attack.
Photograph: Massoud Hossaini/AFP/Getty Images