Home > India > News > First Look


Chile welcomes President Patil

April 22, 2008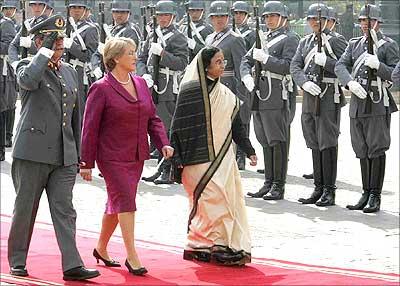 Chile came out in open support for India's candidature for permanent membership to the United Nations Security Council, which it said, should be more transparent with larger participation.
Welcoming President Pratibha Patil [Images] on her three-day state visit to this Latin American country, Chilean President Michelle Bachelet said India should become a permanent member of the UN Security Council.
She said that Chile wanted a more transparent Security Council. The comments from the Chilean President came after the signing of four agreements with the visiting President.
"In that sense, I have reiterated to President Patil Chile's support for India's incorporation as a permanent member of the Security Council," she said.
"Chile supports reforms in the UNSC and Chile expresses full support to India for permanent membership in the Security Council," Bachelet, the first elected woman president of Latin America, said.
While briefing the reporters, Secretary of External Affairs Ministry Nalin Surie said that the two leaders discussed international affairs during their one-to-one meeting.
"Chile has made it amply clear that it will support India's name for the UNSC," he said.
The Latin American country also favoured some changes in other international bodies like the World Bank and International Monetary Fund to make them friendlier towards the developing nations.
Image: President Pratibha Patil and President of Chile Michelle Bachelet at a Guard of Honour at the Constitution Square during the ceremonial reception at Santiago in Chile on Monday.
Photograph: S Mondol