Home > India > News > First Look


President Patil remembers Mahatma in Mexico

April 19, 2008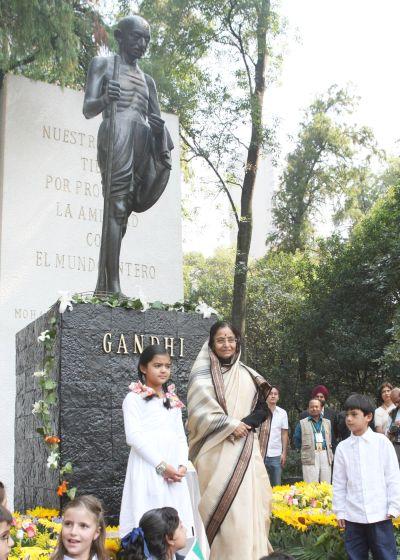 President Pratibha Patil [Images], who is on a 13-day Latin American tour, on Friday paid her respects to Father of the Nation, Mahatma Gandhi [Images], in Mexico.

Soon after paying her tributes, the President posed for photographs with children and gladly interacted with media persons.

When asked about Mexico-India ties, she said: "As two vibrant democracies that are multi-ethnic, multi-lingual and multi-cultural, we face similar situations and challenges. It is, therefore, no surprise that our points of view, objectives and approaches are similar on most issues."
Having toured Brazil [Images] and Mexico, President Patil will head to Chile in the third leg of her tour.

Image: President Pratibha Patil poses with a child at the Mahatma Gandhi memorial in Mexico.

Photograph: Rashtrapati Bhavan [Images]

Also Read:
President Patil gets a slice of Mexico
President Patil's protocol gaffe