Home > News > First Look


Space travellers meet up on Earth

September 28, 2007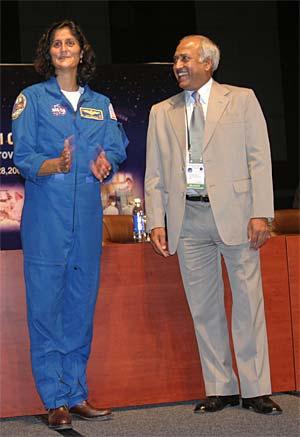 Since 1961, over 400 human beings have gone into space. On September 28, 2007, two of them met on Earth.
Astronaut [Images] Sunita Williams [Images] has set a slew of space records. She spent 195 days in space, the longest uninterrupted stay by a woman. Then, because of the tasks she carried out outside the International Space Station [Images], she holds the record for the maximum duration of space walk by a woman (29 hours and 17 minutes). And she is the only astronaut to have run a marathon in space.
Cosmonaut Rakesh Sharma holds a different record. He is the first, and only, Indian to have gone to space; incidentally, he was also the 138th man to go into space. On April 2, 1984, he launched into space aboard Soyuz T-11 and spent eight days aboard Salyut 7.
When the two of them shook hands on the closing day of the 58th International Astronautical Congress, it was clearly a moment for the shutterbugs.
Incredibly, Williams, who is a member of the United States Armed Forces, and Sharma, who was a member of the Indian Armed Forces, were very clear that man-made borders lose their identity in space; all that mattered was the stunning beauty of a planet called Earth.

Reportage: Savera R Someshwar | Photograph: Reuben NV