Home > News > First Look


Thousands bid adieu to Ganesha

September 25, 2007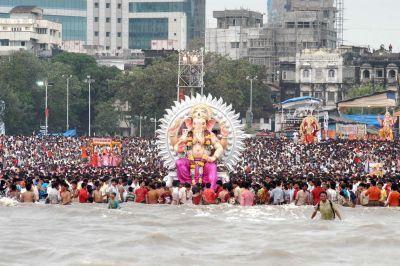 Thousands of devotees flocked Mumbai's Chowpati beach on Tuesday to offer their prayers to lord Ganesh on the occasion of Anant Chaturdashi, the final day for immersion of Ganesh idols.
Chants of "Ganpati Bappa Morya, pudchya varshi lavkar ya" rented the air as processions carrying the biggest idols of the elephant god converged in Chowpati.
Seen in the picture is one of the bigger idols that was among the first to be immersed.
Photograph: Arun Patil in Mumbai