Home > News > Specials

The Rediff Special/ Krishna Kumar

The wake up call that Hyderabad ignored

September 19, 2007

As the car slows down and enters the small lane off the Sayedabad main road in Hyderabad's Old City, two men sitting at the adjacent bus shelter give us a once over.

Something is not right, you think. You also get the feeling that the sentiment is mutual.

As the car stops, two young men sitting on a motorcycle stiffen. One of their friends is with us. He gets off the car and walks up to the young men. As he speaks to them, they relax, and one of them walks up to us.

"Hello. I am Mautasim Billah," the youngster says.

Billah, top, the Hyderabad police records say, 'is wanted for indulging in anti-Indian activities with a view to proliferate terrorism, attract Muslim youth into terrorist fold, to send them to training camps organised at Pakistan-occupied Kashmir as well as in camps maintained in Pakistan and Bangladesh'.

In a case filed at the Gopalpuram police station in Secunderabad, 20 people have been charged under Sections 120-B (criminal conspiracy), 125 (waging war against the nation) and 126 (depredation on territories of power at peace with the Government of India) of the Indian Penal Code. The police say though the youngsters were arrested in connection with previous cases, they were also being questioned about the August 25 blasts, that killed 42 people and wounded many others.

Billah, 23, is accused number 19 in the case and is stated as absconding.

"There are police on either end of the lane almost round the clock," Billah says, nodding at the bus shelter and the other end of the lane, "Do I look like I am hiding anywhere? This is my home. I go to my college regularly. I am here all the time."

Billah, a third year civil engineering student at Hyderabad's Deccan Engineering College, says he has not left the lane for many days now. "After a long time, only this morning, I went out with a friend and came back soon. I dread to go anywhere," he says.

He denies having any hand in anti-Indian activities, as the police claim. "Though they claim that I am an anti-national element, they have never formally arrested me. They come to my home and say, 'saab bula rahen hain,' and call me to the station. But I have never gone even once. If they have proof, why don't they arrest me?" he asks.

Billah claims the police are harassing him for one particular reason. It is an incident that happened in 2004. It is an incident that took the life of his brother Mujahid Salim Islahi

In 2004, a team of the Gujarat police had come to Hyderabad to arrest Moulana Naseeruddin in connection with the murder of former Gujarat minister Haren Pandya.

Video: 'I am not absconding. I am at home'

"We know the police were arresting the Moulana at the state police headquarters. My brother, I and a few youngsters rushed to the spot to protest the arrest. In front of the DGP's office, a Gujarat police officer, Narendra Kumar Amin (Amin's role in the Gujarat fake encounter case is being probed) shot at my brother point blank and killed him," Billah says.

"My friends and I lifted my brother and rushed him to the hospital. But he died. I was an eyewitness in the case that was filed against the policeman who shot my brother. But soon, the police, who did not take any action against that Gujarat policeman, slapped cases against me and my friends and charged us with attempt to murder."

That was the first case Billah was implicated in a police case. "From then on the police torture did not stop. They tried implicating me in several fake conspiracy cases. Be it an attempt on a Bharatiya Janata Party leader or some disruption during a religious procession, they would file cases against me. They would leave the case open and add the names of whoever they want to implicate at a later time and harass us," he says.

The family of another youngster detained, Mohammed Rayeesuddin, also claims the police were harassing their boy because he was at the scene when Salim was killed and volunteering as an eyewitness.

"Mujahid had tried to pull Moulana Nasseruddin from inside the van. Narendra Amin opened fire on him from an arm's length. As he fell, Rayees scooped him and rushed him to hospital," Rayeesuddin's elder brother Mohammed Jameeluddin says, pulling out an old newspaper clipping showing a a bleeding youngster slumped on Rayeesuddin inside an autorickshaw.

"The police picked up Rayees for questioning soon after the Mecca Masjid blasts. That time too, he was harassed for being an eyewitness in that (the Salim shooting) case," Jameeluddin says.

"This time (Rayeesuddin has been detained in connection with the August 25 blasts) Rayees said the police asked him why he was hanging around with Salim's family. They asked him why he takes Moulana Abdul Aleem Islahi on his motorcycle often. The Moulana is a family friend. Is interacting with family friends a crime?" Jameeluddin asks.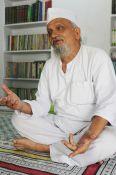 Moulana Abdul Aleem, Billah's father, left, who runs a madarssa for about 700 girls very close to his home, is reluctant to speak about his elder son's death.
"There is nothing on this earth that we can control. If he was destined to die that way, nobody could have done anything. Now the police are harassing my younger son. There are so many cases against him. He lost one year because of this. His studies are affected. But there is nothing that we can do.
"Even when my elder son died, lots of people said I must seek justice for my son. But what use would that have been? So I kept quiet. Maine barduayen bhi nahin di un log ko (I didn't even curse them). But then they started harassing my family saying, 'If he is so quiet, he must be up to something big,'" the moulana says, alleging that the Hyderabad police is reluctant to take action against Amin.
"At least 18 boys from our area are in Gujarat police custody, but no action seems to have been taken against them."
How important is this 2004 case and is it related to the current blasts?
If you believe the Hyderabad police, this case is very important and is very much related to the August 25 blasts. In a report dated August 27, The Hindu newspaper reported: 'The suspects reportedly told the police that (the alleged mastermind of the twin blasts) Shahed (Bilal) firmly believed the police had falsely implicated some city youth in the murder case of former Gujarat home minister Haren Pandya and wanted the government to release them unconditionally. He also felt that Moulana Naseeruddin of Saidabad, who was arrested by the Gujarat police on criminal conspiracy charges, was framed in a false case.'
The report further added: 'Sources said Shahed used to tell his agents that the government should initiate criminal action against the Gujarat police officials for gunning down a youngster, Mujahid, when a crowd resisted the arrest of Naseeruddin.'
Some say the 2004 incident was a wake up call that Hyderabad ignored.
A senior editor with a leading English language newspaper in the city recalls the incident. "It was shocking to see the police allow a procedural lapse get out of hand and become an opportunity for fundamentalists to whip up a frenzy."
Holding the Gujarat police accountable for the incident, the journalist said, "About 50 youngsters had come to block the van in which the accused Naseeruddin was driven away. It is a situation that two experienced constables could have handled with ease. But for reasons best known to themselves, some six officers came out to control the crowd and one of them shot this young man."
He remembers the scenes outside the Yashoda Hospital where Salim was admitted. "The number of youngsters who assembled outside the hospital, the speed at which they came -- it was just a matter of minutes -- and the tone and tenor of the protest that followed showed how easy it is for the fundamentalists to hijack religious sentiments."
The importance of the 2004 incident goes some way in explaining the recent arrests.
Most of the young men arrested have cases registered against them in the past. Most of them may have also known Bilal at some point in their lives.
Hyderabad Commissioner of Police Balwinder Singh confirms this. "It is true that most of those arrested have known Bilal at some point or the other. But most of them have past cases against them and that is the reason they have been detained for questioning. Though they have been detained in connection with those cases, we are also asking them about the blasts and Bilal."
Like Rayeesuddin. "Rayeesuddin knew Bilal in school. He went to the same school as Bilal -- the Asafia School near Mumtaz College in Charminar. Bilal was his senior in school. But he lost touch with him (Bilal) after he dropped out of school in Class 8. Rayees then learnt the fundamentals of electricals from me and started working as an electrician with me. Just knowing him in school is not a crime, right?" his brother Jameeluddin asks.
Other families accept that their wards knew Bilal either in school or were friends with him in the neighbourhood.
Dr Ibrahim Ali Junaid, the father of another accused, said his son knew Bilal as they grew up in the same area. "We lived in the same locality in Moosarambagh. Uska ek zamane me dosti tha. Iska matlab yeh nahin ki poora mohalle ke bandhe ko pakad ke le jagyenge... (He was once Bilal's friend, but that does not mean the police should arrest all the boys in the area...)," Dr Junaid says.
Photographs, Video: Sanjay Sawant
The Rediff Specials