Home > News > Specials

The Rediff Special/ Shobha Warrier in Chennai

'I want to live, please somebody help me'

September 07, 2007

She can't take a few steps without gasping for breath. She spends her nights sitting upright, because she falls short of breath when she lies down. Sometimes, her day starts with spells of vomiting. She has been confined to the four walls of her house for many, many months. She doesn't even have the strength to carry her three-year-old child.

For 21-year-old Mekala, the nightmare started after she gave birth to her son Akash three years ago. "Till then, I didn't even know that I was suffering from a heart disease. Doctors told me to undergo an operation immediately," she says.

As Mekala's condition deteriorated gradually, she could no longer do everyday chores. Her mother-in-law now lives with Mekala and her husband Kumar, and takes care of the household.

"How can I leave her and go to work? I am scared for her," says Kumar, talking about the days when Mekala wakes up vomiting. But Kumar is a house painter and he needs his daily wage to provide for his family.

"I can't bear to see my young daughter in this condition. What can we do? We have to watch her suffer," says her mother Thamizh Selvi helplessly.

Mekala and Kumar have visited several government hospitals in the last three years, but they have received nothing but empty promises.

Tired of the prolonged suffering, the couple even approached private hospitals. But they can't afford the cost of open heart surgery.

Finally, the couple approached Sri Ramachandra Hospital, where doctors warned them that the operation should not be delayed any further.

'She suffers from a rheumatic heart disease with severe MR and AR. She requires to undergo early open heart surgery and double valve (mitral vale and aortic valve) replacements,' states the hospital report.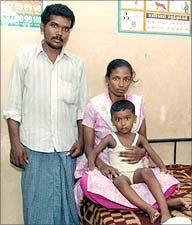 Mekala's operation has been scheduled for September 28, and is expected to cost Rs 225,000. The family has approached several organisations and individuals to seek financial assistance, but the response has been poor.
They also sought help from the Women's Welfare Syndicate, a charitable trust that has helped in organising operations for over 6,000 people.
"Whenever a poor and needy person approaches us, we put up an advertisement in The Hindu. But people donate generously only if the needy patient is a child. It is harder to collect money for older people. So far, we have received only Rs 48,622 for Mekala, which is far less than what she needs for her surgery," says S Balasubramanian, joint managing trustee and a retired bank manager.
Mekala and Kumar approached rediff.com after hearing how readers had responded to save to save Ganapathy, one of Mekala's neighbours.
"I am fed up of my life. I have forgotten what it is like to live normally. I want to see my son grow up. I want to live... please somebody help me," pleads Mekala, as tears well up in her eyes.
Those who wish to help Mekala transfer money to her account (Savings Bank Ac number 30090597017, in the name of K Mekala with the State Bank of India [Get Quote], branch Nungambakkam, branch code 1176), or send cheques drawn in favour of Sri Ramachandra Hospital, A/c Mekala at this address: Women's Welfare Syndicate, Regd. Public Charitable Trust, PO Box 6059, Mahalingapuram, PO, 8/2 Avenue Road, Nungambakkam, Chennai 600 034. Phone 044- 4213 7401, 044-2823 5324. E-mail: womenswelfare@hotmail.com
Photographs: Sreeram Selvaraj
The Rediff Specials