Home > News

Wargames begin off Bay of Bengal

September 04, 2007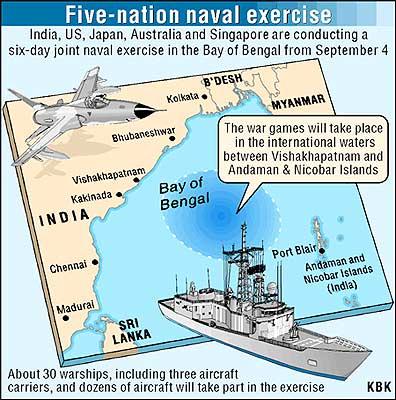 Far away from the protests launched by Left parties on the mainland, warships from five countries, including India and the United States, on Tuesday began their wargames in the Bay of Bengal to fine tune strategies to cope with contingencies like sea terrorism and piracy.
Hundreds of fighter aircraft taking off from huge carriers joined the maneuvers to carry out air dominance tactics at sea, which is part of one of the busiest routes for trade.
The sea manoeuvres in which battleships from India, America, Japan [Images], Australia and Singapore took part is aimed at tackling multi-threat scenario like missile, submarine and aerial attacks.
Twenty six warships are participating in the day and night drill being held 150 nautical miles from the port city of Vishakhapatanam, away from the media glare for the first time. No live ammunition would be let off but missile, submarine and air tactics will be simulated and recorded in the manouveres in the Bay of Bengal lasting five days.
The wargames being held just 40 to 50 nautical miles off the strategic Coco island in Myanmar will also work out joint manouveres to deal with sea piracy and terrorism.
Indian Air Force's Maritime Jaguar deep penetration strike aircraft will for the first time be part of the concentrated action by warplanes and warships. Warnings have been sounded to commercial ships to keep off the exercise path, naval sources said.

Over 160 fighter aircraft, 20 to 30 Prowler air jammers, six to eight E2C Hawkeye will constantly be in the air during the wargames, be it day or night, along with countless number of armed and reconaissance Unmanned Air Vehicles. Two submarines, a nuclear-powered one from the US navy and the other a conventional HDW from India, are also a part of the wargames.
The Americans have fielded two carriers, nuclear-powered USS Nimitz and conventional carrier USS Kitty Hawk, six missile destroyers, John Paul Jones, Mustin, Curtis Wilbur, Chafee, Higgins and Prickney, two Tciodneroga class cruisers -- Cowpens and Princeton -- and two tankers in the wargames.
The Japanese have brought two Takanami class destroyers -- Oonami and Udachi, the Australian has a US-built Oliver Hazard, perry class frigate HMAS Sirius, and a tanker, and Singapore has a French La Fayette class frigate RS Formidable in the maneuvers.
Besides the Jaguars and Sea Harriers as air complement, the Indian flotilla in the wargames will comprise air carrier INS Viraat, two Delhi class destroyers, two Kashin class missile destroyers and two Goadvari class missile frigates and an HDW conventional submarine.