Home > News > First Look


Dhruv all set for Siachen stint

Anil Bhat in Jammu | September 03, 2007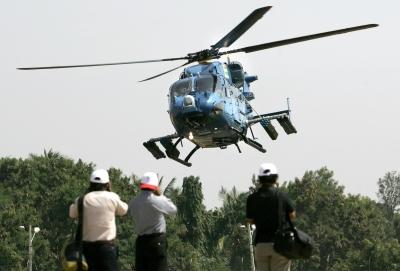 The indigenously developed Dhruv helicopter is set to be inducted by the army in the Siachen sector after successfully completing trials at the world's highest battlefield.
The test trials were conducted in February, defence sources told PTI.
After its formal induction, the first advanced light helicopter would join the MI-17V, Chetak, Cheeta and Chetan helicopters, which fly daily in the Siachen skies for over 35 hours a month for logistic, communication, casualty evacuation and supply support.
Dhruv qualified for high-altitude glacier flying with flying colours on February 15, the sources said, adding the helicopter will prove as an air taxi with support system for all weathers to the Indian soldiers.
The helicopter has cleared its validation processes, including test for high altitude and low temperature flying, they said.
"Dhruv passed this test last month and it is now fit for all conditions and conduct all types of operations," a defence source said.
Manufactured by Hindustan Aeronautics Limited, Bangalore, and inducted into the Indian Air Force in 1998, Dhruv as a multi-role chopper proved best on all the fronts in terms of operations relating to search and rescue, emergency airlift, air ambulance, evacuation, payload deliveries in high altitude posts and carriage of men and material", the source said.
The trials were carried by commanding officer of the Chandigarh-based Dhruv squad, Squadron Leader Sandesh Mitra for over a six-month period at different times and weather conditions.
Dhruv, indigenously developed by the Defence Research and Development Organisation, performed beyond its limits of expectations in Siachen and surprised even its pilots as flying a helicopter of 5.6 tonnes at 23,000 feet above the sea level is virtually impossible, the sources said.
The helicopter has of late become a favourite of the navy -- operating to great effect in casualty evacuation in sea and coastlines alike.
While the Kochi-based Southern Naval Command has one unit of the helicopter specially designed for sea waters with rafts below them, Dhruv has two squadrons in Bangalore and Chandigarh.
While Bangalore has the world's best Sarang squadron of Dhruv advanced light helicopters, the Chandigarh-based 114 Helicopter unit is famous as the 'Himalayan dragons'.
Text: PTI | Photograph: AFP/Getty Images