Home > News > First Look


US Ambassador's wife in campaign against breast cancer

October 25, 2007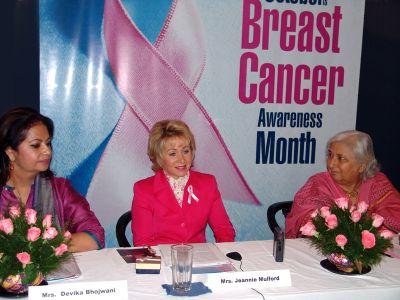 It was not only moving but also a brave emotion displayed by Mrs Jeannie Mulford, wife of United States Ambassador to India David C Mulford.
In New Delhi, on Thursday, she shared her experiences as a breast cancer survivor at a briefing organised by the US embassy to mark International Breast Cancer Awareness Month in October.
In the world of diplomacy, mushy emotions have a little place and in public life the "Amby's wife" is normally found behind her husband. But, Jeannie came out of her secured home at Chanakyapuri and decided to do her bit for the women of world. She knows that in 2007 an estimated 40,460 women will die from breast cancer. Her world has changed after she was diagnosed with breast cancer but she has beautifully carved out a better and brighter life with the help her husband and relatives.
The most proven and significant risk factors for getting breast cancer are being female and getting older. A woman's chance of breast cancer increases with age. The chance of woman dying from breast cancer is about 1in 33.
The research has shown that family history, age, genetics and obesity can increase the risk of developing cancer. The US has announced October as National breast cancer awareness month.
Mrs Mulford was joined by Bim Bissell, founder of Fab India, and Devika Bhojwani, the vice-president of the women's cancer initiative - Tata Memorial Hospital. Bhojwani and Bissell are also breast cancer survivors.
The three distinguished women displayed strength to go ahead in life in spite of cancer.
They were also joined by Dr Vineet Gupta, cancer expert who insisted, repeatedly, that women must do everything to diagnosis breast caner at early stage. He said, "Mammography is a message of genuine hope. Mammography is the way to go." Dr Gupta said that the issue of breast cancer in women should not be considered a woman's issue. It's a family issue, he said.
He gave some disturbing statistics to emphasise that issues related to the breast cancer treatment needs urgent attention.  
According to the World Health Organisation more than 1.2 million people will be diagnosed with breast cancer worldwide. Breast cancer is the most frequently diagnosed cancer among women, second only to lung cancer in cancer deaths among women.
Dr Gupta said that early diagnosis of breast cancer helps a lot to make treatment effective.
Sheela Bhatt in New Delhi