Home > News > First Look


'I will have a lot to tell the Queen'

October 24, 2007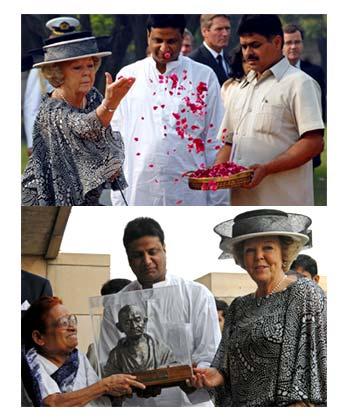 India has a tiny Dutch expat population.
Quite a bit less probably than it did 350 to 400 odd years ago when the Dutch East Indian Company was finding a foothold in South India in towns like Tuticorin, Kochi and Pulicat. But a recognisable population nevertheless.
Queen Beatrix of the Netherlands, who is visiting India on a state visit after 21 years (although she was in Rajasthan, India for the millennium new year with her family), plans to meet this Dutch community, who will assemble in Bangalore for the occasion.
One of the more intriguing people she will meet is Matan Schabracq, co-partner of one of north Mumbai's most happening lounges and restaurants, Zenzi.
Schabracq is quite looking forward to this meeting. He says:
'I got the invitation one month ago.
'At first, I was in doubt about going. I was not sure I wanted to go all they way to Bangalore to see her. You see, you have to understand I am not a groupie of the queen!
'But then, I thought how often does one get invited to see the Queen? Had I been in the Netherlands I would have never been invited to meet the Queen. It is just because I am in India that I am getting this opportunity.
'When I first heard she was coming I was extremely excited. There are hardly any kingdoms left in the world and having a queen or a king is an old European tradition. It is nice to be able to pay your respects to a queen. So I thought, let's go to Bangalore.
Queen Beatrix on a state visit
'What I will wear to this function has already been decided. They sent me a letter telling me about the dress code. I have to wear a dark suit. They have also said that I cannot call her Madam. And that I should not bow. Or shake her hand. I have to call her 'Your Majesty' and only if she offers her hand can I shake it.
'I think there must be about 100 Dutch people in India. I don't know. I think maybe 50. I will be the only Dutch restaurateur to meet her. The rest are all boring corporate people who work in banks, insurance and investment banking. I think I will be the most dymanic among them and I am sure I will have a lot to tell her
'She is coming with the future prince and his wife so we will get a chance to see the younger generation.'
Image: Queen Beatrix at Rajghat on Wednesday (top), and receiving a bust of Mahatma Gandhi [Images] soon after | Photograph: Christophe Archambaul/AFP/Getty Images