Home > News > First Look


Grooming Ravana

October 18, 2007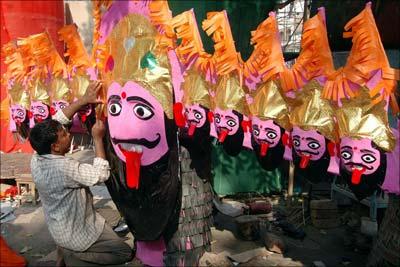 Four days ahead of Dusshera this effigy of demon king Ravana gets his finishing touches in a workshop in Amritsar [Images], Punjab, on Wednesday.
Dusshera -- which falls on October 21 this year -- celebrates Ram's victory over the ten-headed Ravana. Ram Leela productions -- enactment of episodes from the Ramayana -- take place every night. And at central maidans of towns across the country alarming effigies of the demon are burnt to the merriment of crowds.
Photograph: Narinder Nanu/AFP/Getty Images