Home > News > First Look


Protests against Sonia in the US

October 02, 2007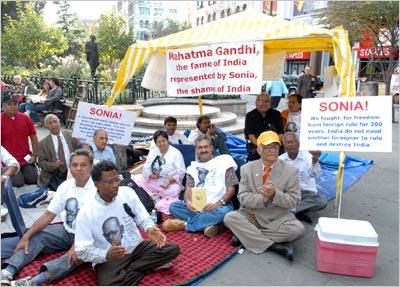 Along with the red-carpet welcome, Sonia was greeted by some protests in the United States.
The protests were planned by a group that calls itself Forum for Gandhi Heritage. A relay fast was held outside the UN building in New York, decrying Sonia's selection by the Indian government as the speaker at the United Nations General Assembly.
"The recent UN declaration of Mahatma Gandhi [Images] birthday as International Non-Violence day at India's request is commendable. However, unlike true Gandhians, who lived their lives based on Gandhiji's ideals representing this day at UN, politicians like Sonia Gandhi [Images] are using his name for political mileage and international legitimacy," the group said in a statement.
It claimed that Sonia poses "an alarming threat" to democracy in India since she entered the country by way of marriage to former prime minister Rajiv Gandhi. They also alleged that she is dividing the country for dynastic rule and is out on a "crusade" to wipe out Hinduism.

Image: Protestors say Sonia is a wrong choice by the Indian Government to address the UN Assembly.
Photograph: Paresh Gandhi