Home > News > First Look


Tehelka editor meets daughter of Gujarat riot victim

November 29, 2007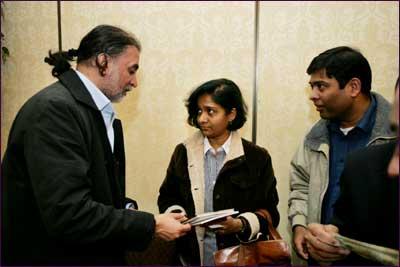 Editor in Chief of Tehelka Tarun Tejpal speaks to Nishrin Hussain, daughter of former Member of Parliment Ehsan Jafri who was killed during the 2002 post-Godhra riots, at an event in Teaneck,  New Jersey on Wednesday.
The event was organised by the Indian Muslim Relief and Charities.
Tehelka
had recently carried out a
sting operation
which had exposed the alleged role of the Narendra Modi-led Gujarat government in orchestrating the 2002 riots.
Photograph: Mohammed Jaffer/SnapsIndia