Home > News > First Look


French army chief meets General Kapoor

November 27, 2007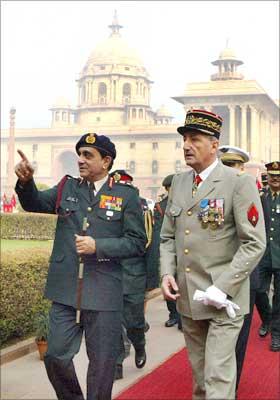 Indian Army Chief General Deepak Kapoor speaks with French Chief of Army Staff General Bruno Cuche at defence headquarters in New Delhi on Tuesday.
Cuche is in India for a five-day official visit.
During his visit, the French army chief will meet senior Indian military and civilian defence hierarchy to discuss defence related issues and prospects for future co-operation between the two armies.
Photograph: Raveendran/AFP/Getty Images