Home > News > First Look


Mumbai's culture cop cremated

November 21, 2007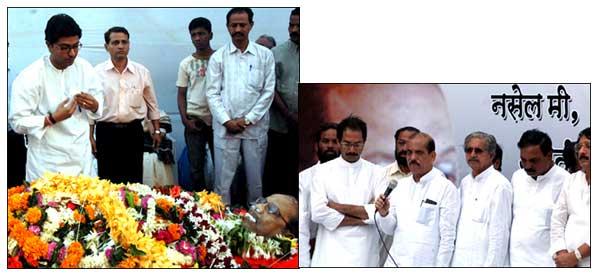 Veteran Shiv Sena leader and former Maharashtra minister Pramod Navalkar died of cardiac arrest on Tuesday. He was 72 and is survived by two daughters.
Navalkar was known as a culture cop in Mumbai and wrote a popular column in Navshakti newspaper called 'Bhatkyachi Bhramanti' on his experiences. He also wrote columns in the Maharashtra Times and Mid-Day.
An advocate of moral policing in every aspect of life, Navalkar was the minister for culture and transport in the Shiv Sena-Bharatiya Janata Party government that came to power in the state in 1995.
A close friend and confidant of Shiv Sena chief Balasaheb Thackeray since the firebrand organisation's inception in 1966, Navalkar became the first Shiv Sena legislator in 1972.
The last rites for the senior Shiv Sena leader were performed on Wednesday in Mumbai, where several senior leaders from the Shiv Sena, BJP and other political parties paid their respects.
Legislators of all parties also paid homage to the departed leader on Wednesday at a condolence meeting held at the Vidhan Bhavan in Nagpur.
Image, Left: Chief of Maharashtra Navnirman Sena Raj Thackeray paying homage to Pramod Navalkar.
Right: Shiv Sena leaders Uddhav Thackeray, Manohar Joshi and Subhash Desai pay their respects to Navalkar.
Photograph by Arun Patil