Home > News > First Look


The Big Ben moves to Delhi

November 20, 2007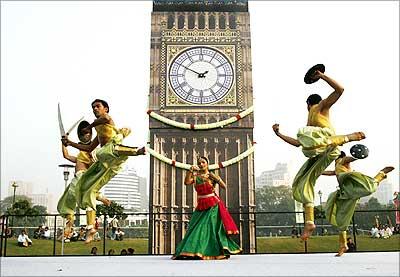 The mayor of London [Images] Ken Livingstone arrived in India on Monday and signed a memorandum of understanding to boost tourism between the cities of London and Delhi.
Why Indians love to visit London
To celebrate the occasion dancers performed a tableau in front of a replica of London's famous Big Ben set up in New Delhi.
Livingstone -- well known for his affinity for newts (he raises these aquatic, and often toxic, salamanders that look like a cross between a frog and a lizard) -- has worked as a food critic for various media organisations and is certainly likely to enjoy analysing the food he will tuck into during his sojourn in India.
'India one of world's greatest cultures'
Livingstone has through his tenure (elected since 2000) done a number of noteworthy as well as unusual missions -- he signed on for an agreement to reduce carbon emissions in London by 20 per cent, reenergised the anti-racism music festival, started the first register for gay couples in London, supported a proposal to place a statue in Trafalgar Square for South African leader Nelson Mandela, organised the city's first celebration of Eid and St Patrick's Day, tearfully apologised for Britain's role in slave trade, apart from organising a special function to commemorate anti-US Vietnam war activists just ahead of US President George W Bush's [Images] visit to Britain (who he calls the greatest threat to life on this planet).
One of the toughest tests of Livingstone's mayorship of London hs been to cope with the briskly expanding city's overtaxed and old transportation systems; he was the mayor to introduce London's unpopular congestion charge. Tickets for minimum fare on this system -- 4 pounds -- are some of the most expensive in the world. To this end Livingstone will visit and admire Delhi's metro and later ride Mumbai's suburban trains.
In Delhi Livingstone, once dubbed Red Ken for his Leftist leanings, announced his support for India's bid to host the 2020 Olympics [Images]; Livingstone was instrumental in winning London's bid for the 2012 Olympics.
Photograph: Manpreet Romana/AFP/Getty Images