Home > News > First Look


Parliament adjourns, in tribute

November 15, 2007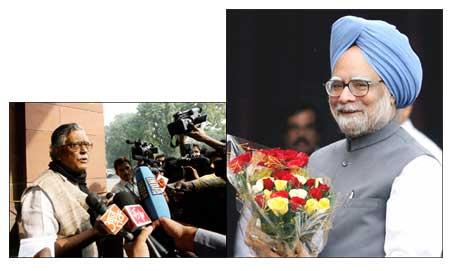 Both Houses of Parliament were adjourned on Thursday without any business in respect to two sitting and six former members who died recently.
The sitting members who died during the inter-session period are Vijay Kumar Khandelwal, BJP, representing the Betul constituency in the Lok Sabha, and former BJP president Jana Krishnamurthy, who was elected to the Rajya Sabha from Gujarat.
Thursday was the opening day of the brief winter session of Parliament which will conclude on December 7. In the Lok Sabha, Speaker Somnath Chatterjee paid obituary references to Khandelwal, Manjay Lal, Yashwant Borole, Lala Ram Ken and L M Singhvi while Rajya Sabha chairman Hamid Ansari did the same for Krishnamurthy, J P Mathur, S R Bommai and Singhvi. Krishnamurthy, who served as union law and justice minister in the NDA government, would be remembered as an able parliamentarian, noted lawyer and a distinguished social worker, Ansari said.
The 80-year-old founder member of the BJP, who was ailing for sometime, died on September 25 in Chennai.
The Speaker said Khandelwal, 71, who died on November 13 after a brief illness, played a pro-active role in the campaign for protection of environment and for better health facilities for tribals in Madhya Pradesh. Singhvi, a Padma Bhushan awardee, was member of the third Lok Sabha from Rajasthan and later represented the state in the Upper House from 1998 to 2004.
Glowing tributes were paid in both the Houses to Singhvi who was described as an exceptionally brilliant scholar, a legal luminary and a constitutional expert.
His outstanding contribution "to the cause of legal system will be remembered for long", Chatterjee said. A multi-faceted personality, Singhvi conceived the idea of hosting an annual Pravasi Bharatiya Divas for the Indian diaspora. Eighty-four-year-old Bommai, who died on October 10, represented Orissa and Karnataka in the Upper House and was union minister from 1996 to 1998. He was also the President of the Janata Dal. Mathur, who died on October 20 at the age of 86, represented Uttar Pradesh in the Rajya Sabha for two terms.
A founder-member of the BJP, he was a distinguished social worker and an able parliamentarian, the chairman said. Lal, who passed away on April 29 in Patna, thrice represented Samastipur in Bihar in the Lok Sabha. Chatterjee recalled his contribution to the freedom struggle and the Bhoodan movement.
Borole, who represented Jalgaon in Maharashtra in the Lok Sabha, died on September 16 at the age of 87. He would be remembered as an educationist, a social worker and a person who actively worked for rooting out dowry, the Speaker said.
Ken, who represented Bayana in Rajasthan twice in the Lower House, died on October 5. An agriculturist by profession, he worked for the upliftment of the poor and  marginalised sections of society, Chatterjee said.
Text: UNI; Photograph: Raveendran/AFP/Getty Images.