Home > News > First Look


Karadi Tales weaves a spell on children

A Correspondent | November 14, 2007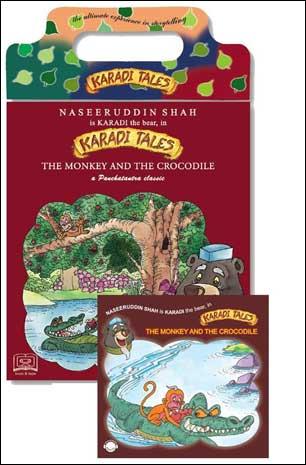 Karadi Tales, a Chennai-based company which publishes children's books, has released a set of e-audiobooks on Children's Day.
A child can listen to the story, read the book, look at the pictures, and even turn the pages on the computer in an e-audiobook.
All stories are narrated by Karadi, the bear, with distinguished people like Naseeruddin Shah [Images], Gulzar [Images] and Girish Karnad lending  their voice for Karadi.
The audiobooks, which bring out the best of the Indian moral stories and fable, are designed to develop reading and language skills in children while the child is having fun.
Narayan Parshuram, the director of Karadi Tales, said the best thing about audiobooks is that it enhances sight reading.
"This way, a child can associate with the word in the word-picture-sound format. This is a huge help as the child grows," he said.
He added that Karadi Tales also finds a place in the list of top 100 products for children in the world by the Institute of Childhood Resources, California.
"That organisation is like our National Council of Education Research and Training. And Karadi Tales was listed among the top 100 products, not just top 100 books. That goes a long way in showing how good the audio-books are," Parshuram said.
He also narrated an incident that shows how the audiobook concept can aid Indian children.
"Manohar Parikkar, who was the chief minister of Goa [Images], called us and said his son benefited a lot from our audio-books. Apparently, his son started reading much before he started going to school. So the chief minister wanted to replicate this in all schools in Goa. We got into action and devised a detailed format where every classroom had a book for every two students and we did the audio on tape recorders instead of the usual compact discs. So these cassettes would be played in the class and students were asked to read the books alongside. This apparently had a huge impact on the comprehension of students."
Regarding the new series launched on Children's Day, Parshuram said the books were available on the Net and are easily downloadable.
"We even have a sample on our website. Some of the things we have done are simple but we think will give a very original experience for our young readers. There are five books with the audio done by Naseeruddin Shah, Saeed Jaffery, Nandita Das and Girish Karnad."
The e-audiobooks are available at: www.karaditales.com/ebooks