Home > News > First Look


Lakshmi shifted to special ward from ICU

November 13, 2007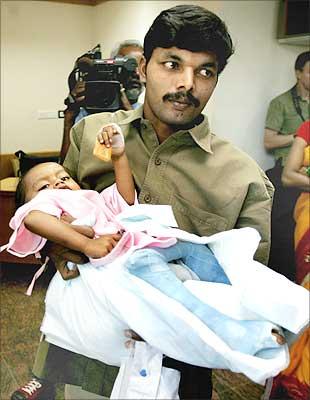 Two-year-old Lakshmi Tatma, recovering fast from a complicated operation to remove her parasitic twin a week ago, was on Tuesday shifted out of the Intensive Care Unit to a ward specially made for her.
Doctors at Sparsh Hospital in Bangalore, who performed the rare surgery, said the child from the remote Rampur village on the Bihar-Nepal border was ''safe and sound'' and was recovering fast. However, she has a long way to go before she was fully rehabilitated.
''Lakshmi has responded very well to the treatment. We have removed all the monitors and she will now rest in the special ward designed for her. However, the wounds are still raw,'' Sharan S Patil, chairman and chief surgeon of the hospital said.
Dr Patil said both of Lakshmi's legs had been plastered to keep them together. All the parameters were normal and the child was consuming semi-solid food and various types of liquids.
Pix: Medical marvel gives Lakshmi a new life
Neurosurgeon Thimmappa Hegde said the child had made significant progress and her clinical and biochemical parameters continued to be normal.
Lakshmi and her entire family including parents Poonam and Shambu and her brother Mithilesh were presented before the media by the doctors on Tuesday. Lakshmi looked quite cheerful.
The marathon 27-hour operation had attracted worldwide attention when Lakshmi was separated from her headless parasitic twin.
Lakshmi was brought to Bangalore in October by Dr Patil as an ischiopagus twin having two bodies joined at her pelvis. Only one of the twins had a head, while the other was a parasite. Two pairs of legs and arms were formed at either end of the two adjoining torsos, thus appearing as a child with eight limbs.

Image: Two-year-old Lakshmi is cradled in the arms of her father Shambhu at the Sparsh Hospital in Bangalore.
Photograph: Dibyangshu Sarakar/AFP/Getty Images