Home > News > First Look


Yeddyurappa sworn in

November 12, 2007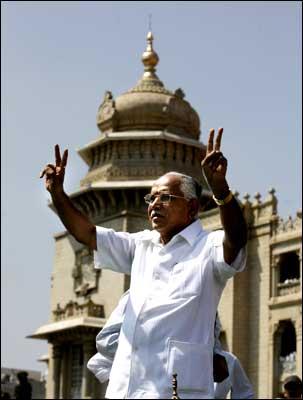 Newly-elected Karnataka Chief Minister B S Yeddyurappa greets supporters from the Vidhan Soudha (state assembly building) in Bangalore -- before taking the oath as the 25th chief minister of the state on November 12. 
Along with four other Bharatiya Janata Party leaders, Yeddyurappa was sworn into office in Karnataka state, with the Janata Dal-Secular as the junior partner in the renewed coalition.
His is the first BJP chief minister in the South. 
Photograph: Dibayngshu Sarkar/AFP/Getty Images
Coverage: Political crisis in  Karnataka