Home > News > Columnists > B S Prakash

Rock Star Rocket Scientist


November 01, 2007

Something seems to happen to you guys when you cross the Atlantic. You become a changed personality. I wanted to find out why?" said Dr Kalam.

The large audience just loved the opening. They had been waiting patiently and here he was now, addressing a group of around 800 of them gathered at the impressive premises of the Indian Community Centre, in the heart of the Silicon Valley.

It was my good fortune as the resident diplomat to accompany him from function to function. We had started fairly early in the morning with one appointment after the other; he must have started his day even earlier; and it was now evening.

At each venue he had been mobbed like a rock star. There were tumultuous demands for autographs, photographs, nods of encouragement, words of wisdom. Throughout the day, Dr Kalam had obliged everyone, constantly smiling for photographs, remembering names and places which people invoked to remind him of a past connection, and above all, receptive and curious.

And now at the last event for that day, he was expressing one aspect of his boundless curiosity, about his audience in the Silicon Valley.

"I asked my friend Mr John Chambers, CEO of Cisco, when we visited him earlier today," he said. The phenomenal success of Indian entrepreneurs in the Valley had indeed come up in the discussions at Cisco, as in other places. What makes them tick was the question that interested Dr Kalam.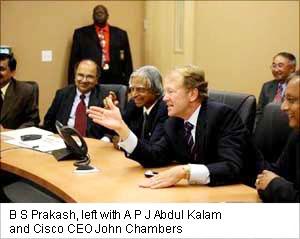 John Chambers had a perspective, having had star Indian talent in his own company, being a believer in India with his decision to make Bangalore the global hub for Cisco's research and design operations and having demonstrated his commitment with an investment of over a billion dollars there.
The key to growth of entrepreneurship in Silicon Valley is a combination of its culture and climate, he explained. Above all, Silicon Valley has had a history and tradition of valuing top talent, no matter where it is found, young or old, college drop-outs or wisened veterans of industry, fresh immigrants or true blooded Americans.
Imagination and execution were what mattered. Besides that, over the years Silicon Valley had created a habitat conducive for entrepreneurs to grow: established seniors receptive to new ideas, mentors to coach youngsters on starting a business, venture capital folks around the corner ready to fund good proposals, lawyers to hold your hand while you set up business, and a whole portfolio of stories on risk-taking, of people who stumbled or fell in business, to get up and start again.
This had fascinated the former President, who had started and completed so many technology projects in India, some with setbacks, and many with risks. He narrated to his audiences his own experience as a relatively junior space technologist working with his then boss, Professor Satish Dhawan.
Dr Kalam had been entrusted with the job of the satellite launch. One of the early missions had failed. There was a press conference with a largely sceptical or cynical press -- both Indian and Western-ready to pound with their questions on India's space programme.
Professor Dhawan had called Dr Kalam and told him not to worry. He had said that he --Professor Dhawan -- would face all the questions. The next mission had been a spectacular success. This time Professor Dhawan had told Dr Kalam, "This time, you go before the press."
A valued mentor, a word of encouragement when facing a setback and the resolve to overcome the problems and execute the project -- this was Dr Kalam's inheritance from the ISRO (Indian Space Research Organisation) days. He was now spreading the message with his enormous reach and appeal.
This had been Dr Kalam's first foreign visit in his new avatar as a 'former' President and reverting to the role of a teacher. The main purpose of his visit was to deliver an address at the World Space Conference, which had been organised by the prestigious Caltech University to mark fifty years of space exploration in October. This was our next destination after Silicon Valley.
Caltech in Pasadena, a leafy suburb of Los Angeles, has had a unique and integral relationship with the space programme. Closely linked to it is the Jet Propulsion Laboratory or the JPL, which was the first laboratory in America to focus on technologies for outer space exploration. Even NASA [Images] came later. Thus a visit to Caltech and JPL is in the nature of a minor pilgrimage for those from this field like Dr Kalam.
Accompanying him and the other scientists from India, I too was lucky to get a peep into these facilities. Most of the discussions, about payload fractions, ascent turbo jets, reusable thrusters etc, predictably went way above my head. But from the lectures, I did get some interesting insights about the underlying factors and forces that have influenced the development of the space programme over the last fifty years, and are affecting the challenges for the next fifty. I also could discern how our own thinking and priorities are different from that of the West.
At the conference, it was vividly remembered by many that the first space satellite was the Soviet Sputnik on October 4, 1957. It was the height of the Cold War and the Americans were shocked that the Russians had beaten them to space.
Soon the US too followed. But the Soviets won again by being the first to send a man in Space with Yuri Gagarin in 1961. That race too had been won. What should America do? The young and charismatic President Kennedy declared with a dramatic flourish soon thereafter that America would put a man on the moon by the end of the decade, a task that it then accomplished in 1969.
All this is known, but what was interesting was that many of the veterans recalled that the compelling motive for advances in space came from the race, from the Cold War, from the fear of lagging behind. Not only had it led to generous funding for the space programme, but had inspired a whole generation of young people in fifties and sixties to study science or engineering, to become astronauts or aerospace scientists.
Going even further, there was a provocative point made by one speaker, Neil Tyson, who argued that any big national endeavour at any time in history has been made possible only with any one of the three motives:
Imperative of national security, or
The temptation of a huge economic return, or
For purposes of national pride or prestige.
America would find the money to reach Mars [Images] in three months, if it was found that the Chinese had gone there, he joked. Belief in science or the quest for knowledge alone will not result in big budgets, was his point.
Dr Kalam's own vision was very focussed and practical and can be seen on his Web site. What struck me, as a non-specialist observer, was the societal aims of the Indian space programme and how it was to touch so many lives, many in rural and remote areas through communication satellites, to take one example.
The affluent nations were talking of space tourism or space entertainment, and are deeply anxious about the financial crunch. Our orientation and discourse seemed different.
With all of Dr Kalam's American interlocutors, the very idea that a scientist and a rocket technologist could reach such a high public office in a democracy -- can become a President -- evoked awe and admiration. That fact in itself was enough to captivate American audiences.
On top of that, the personality of the former President, his simplicity and charm, his curiosity as a scientist and his empathy as a teacher: it was 'wow' wherever we went. Those of us with him were flying high, if not in space, in euphoric delight.
B S Prakash is India's Consul General in San Francisco and can be reached at cg@cgisf.org
B S Prakash