Home > News > Report

What is the Mecca Masjid?

May 18, 2007 15:08 IST
Last Updated: May 18, 2007 18:28 IST



The site of Friday's bomb blast, Mecca Masjid, one of the oldest mosques in the historic city of Hyderabad, is one of the City of Pearl's major landmarks.

Sultan Muhammad Quli Qutub Shah, sixth ruler of Hyderabad, ordered the construction of the Mecca Masjid in 1617. The mosque was completed in 1694 under sixth Mughal emperor Aurungzeb's orders.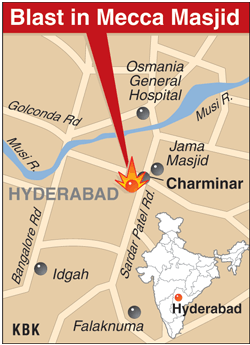 Legend has it that the mosque's bricks were made from earth brought from the Muslim holy city of Mecca. Legend also has it that the five arched facades were carved from a single granite piece that took five years to quarry. And that anyone who sits on the two stone seats in the central courtyard will definitely return to Hyderabad.
The mosque, which can reportedly accommodate 10,000 people, is also said to house a hair of Prophet Mohammad.
It is located just about 100 yards away from another historic landmark, the Charminar, also built by Quli Qutub Shah. It is said that like his father, Muhammad Quli Qutb Shah also supported Sanskrit and Telugu literature.