Home > News > First Look


In the DMK, it's brother vs brother

May 09, 2007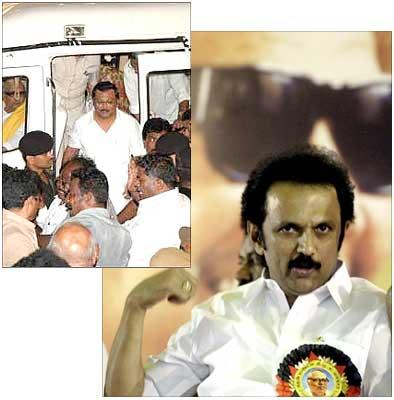 With the attack on the Madurai offices of Tamil daily Dinakaran, the tension between the followers of the sons of Tamil Nadu Chief Minister M Karunanidhi has risen again.

Protestors -- allegedly supporters of Karunanidhi's eldest son M K Azhagiri -- attacked the newspaper office after the Sun TV group-owned Dinakaran carried a survey that said 70 per cent of those polled in a state-wide opinion poll favoured Chief Minister Karunanidhi's younger son and state Local Administration Minister M K Stalin as the DMK chief's political heir.

Only two per cent of those polled favoured Karunanidhi's elder son Azhagiri.

Not surprising, considering that Stalin has been carefully cultivating an image over the years as a maturing leader.

Stalin has always stayed close to the party leadership and has been in active politics for close to two decades. He is a four-time legislator and has also been the mayor of Chennai.

It has been a few years since Karunanidhi began promoting Stalin over his elder son Azhagiri and even other party veterans like Anbazhagan and Arcot Veerasamy.

While most party veterans have conceded any ambitions of succeeding Karunanidhi and accepted Stalin as the next leader, Azhagiri has never been able to come terms with being sidelined by his younger brother.

He had over the years established himself as the backroom boy with control over the southern districts, without even holding any party post.

The bitterest stand-off between the brothers in recent times was when Azhagiri was almost expelled from the party in the run-up to the 2001 state assembly election. Azhagiri worked against the DMK, resulting in a rout in the southern state and paving the way for J Jayalalithaa's AIADMK to return to power.

There was temporary reconciliation when Azhagiri and Stalin were lodged in the Madurai prison, after some members of the family were arrested in connection with the flyover scam case.

The brothers promised to come together, but fell out soon after they were released.

As Stalin looked to take control of the southern districts of Tamil Nadu, his loyalist T Kiruttinan, who was trying to consolidate Stalin's support base in the region, was murdered in early 2003.

Azhagiri is one of the accused in the case, whose trial is on.

When he was entrusted the responsibility of ensuring a win in the recent civic election in Madurai in October 2006, Azhagiri worked overtime to lead the party to a landslide win, proving that when it comes to the southern districts, he rules.

Wednesday's incident came after rumours of a recent patch-up between the brothers.

Karunanidhi, who has always appeased Azhagiri only when elections were around the corner, while pampering and promoting Stalin at all times and costs, will find Azhagiri hard to please this time around.