Home > News > First Look


Now, TV on your train

March 21, 2007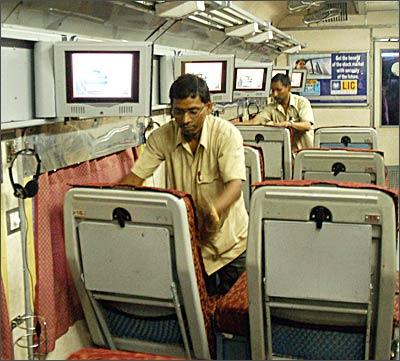 Come Wednesday and a ride on the Mumbai-Ahmedabad Shatabdi Express will get that much more entertaining.
Western Railway will now allow passengers to view news and entertainment programmes on LCD television screens installed behind seats.
The LCDs would be operated through internal networking and would telecast a variety of shows, including news, yoga, comedy, animation, movies and songs.
Ankur Shah of Time & Yoag Publicity Pvt Ltd. came up with the idea along with his father. They also plan to telecast breaking news, including cricket updates and business news soon.
The LCDs have been procured from China-based Plasma Company.
The Mumbai-Ahmedabad Shatabdi Express with only executive and air-conditioned chair-cars was an obvious choice, officials said.
Photograph: Arun Patil