Home > News > First Look


Kalam ready to reconsider decision: Naidu

Onkar Singh in New Delhi | June 20, 2007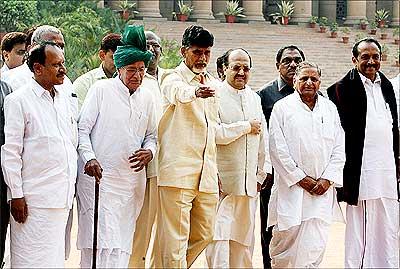 Third Front leader Chandrababu Naidu said on Wednesday that President A P J Abdul Kalam was willing to reconsider his earlier decision of not contesting the presidential election, provided there was a certainty of winning the poll.
Naidu and other Third Front leaders had a brief meeting with Kalam on Wednesday afternoon to persuade him to contest for a second term with Third Front support.
After the meeting with Kalam, Third Front leaders appealed to the United Progressive Alliance, the National Democratic Alliance and other parties to support Kalam for a second term in office.
The Third Front delegation to Kalam included Naidu, Samajwadi Party leaders Mulayam Singh Yadav and Amar Singh, Marumalarchi Dravida Munnetra Kazhagam leader Vaiko and two representatives of All India Anna Dravida Munnetra Kazhagam among others.
Text: Onkar Singh | Photograph: Raveendran/AFP/Getty Images