Home > News > Specials

The Rediff Special/ Syed Firdaus Ashraf

These young girls just wanna study

June 12, 2007



In what is a shot-in-the-arm for young girls facing similar pressure, two Muslim girls have turned to the courts for ensuring that they are not prevented from attending college in the name of Islam.

Samina Shaikh (19) and her sister Zarina Shaikh (18) from the Muslim locality of Madanpura in south Mumbai, are the first girls from their neighbourhood, Jaffarbori chawl near Hari Masjid, to go to college.

Samina and Zarina, along with nine members of their family, live in a 10 feet by 10 feet room that has few facilities to offer.  In spite of everything, Samina scored 83 percent in class X and Zarina scored 75 percent. Facing harassment from a neighbour they spent a year at home, before gathering enough courage to pursue Std XII.

They did their schooling in Urdu medium but they taught themselves to speak good English. Samina wants to do something more in the field of IT, while Zarina wants to become a chartered accountant.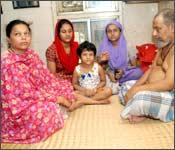 But what they didn't bargain for was stiff opposition from their neighbour and self-styled maulana, Mohammad Ali Nisar Ansari, who objected to them attending college.
"Mohammad Ali came to my father Mohammad Yasin and said girls should not be sent to college because Islam does not permit them to do so," says Samina Shaikh, a second-year science student from the reputed St Xavier's college in south Mumbai.
When they leave for college they step out covered in a burqa, and never come out in open in front of others.
"I am the only Muslim girl in my class and my friends call me Krrish [Images] because I wear this burqa," jokes Samina. Her sister Zarina, who is doing her first year BCom from Maharashtra College, adds, "I am called Al Qaeda [Images] in college because of my dress."
On a serious note, Samina says, "In spite of the fact that we wear burqa while going to college Mohammad Ali tells us that girls should not roam openly on roads but be inside the house and do household work."
When the girls did not budge and went ahead with their studies Mohammad Ali reportedly ran riot and beat up the girls as well as their father, mother and brothers for not following his diktat.
He also hired goons to harass them while going to college, they say.
Fed up of his harassment the two sisters complained to the Nagpada police against him; to their surprise the police did not entertain them because, apparently, Mohammad Ali was a police informer.
 
"In fact the Nagpada police said they will throw me and my sister in jail for not following his orders," said Samina.
The two sisters next went to Joint Commissioner of Police (crime), Meera Borwankar, who put them on to the social service branch of Mumbai police.
"The social service branch police took an underwriting from Mohammad Ali that he will not object to our studies and not interfere in our lives," says Zarina.
"We withdrew the complaint against Mohammad Ali in April but to our surprise he started his harassment again and beat up our entire family on May 11 for not obeying him," Zarina said.
With no help coming from anyone, the girls then approached Bombay high court. A division bench of Justice Ranjana Desai and Justice Dilip Bhosale this week directed the police to stop Mohammad Ali's harassment, to "do everything" to stop the neighbours from "terrorising" the girls, and if they failed the court will step in.
The chawl people are so scared of Mohammad Ali that nobody dares take him on when.
Says Sana Abid, Samina's neighbour, "He is a terror in our area and nobody can say anything against him. He performs black magic and also hypnotises people. We keep mum because he is very influential."
Fayaz Ahmed, former Congress legislator from the area says, "Samina's family has met me many times over their problems of water and other civic issues but not once did they tell me about this problem. I am shocked to know about this incident."  
Mohammad Ali's door has a huge nameboard announcing his name as: 'Khalifa-E-Mazhar-E-Mufti-E-Azam-E-Hind-AlHaj-Sufi-Nisar Ahmed Qadri Barkati Razvi'. However, he was not at home when this reporter called and his mother Sadiqa refused to give details about his whereabouts except that he had gone to market.
Asked if it was true that her son was harassing the girls when they went to college, she said, "These all are false charges. My son is innocent. They are doing this to trap him. He was helping them earlier financially but now since he has stopped they are accusing my son."
Asked whether her own daughters ever went to school or college, she said, "Yes, they did [go to school] but they did not go to college."
She then quickly added, "My son is only an electrician and never objected to them going to college. These are false allegations against us. Islam teaches brotherhood and love among fellow Muslims and we follow that. We don't quarrel with them but they quarrel with us."
The Rediff Specials