Home > News > First Look


Security check on Sanjay Dutt outside TADA court

June 07, 2007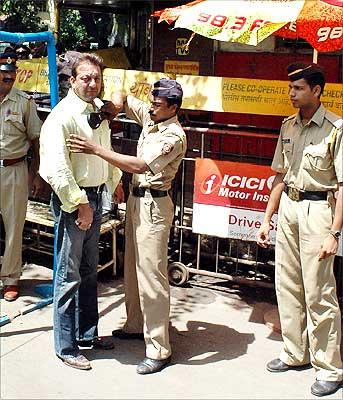 A policeman carries out a security check on actor Sanjay Dutt [Images] as he arrives at the Terrorist And Disruptive Activities (Prevention) Act court in Mumbai on Thursday.
Dutt has been convicted by the TADA court for illegal possession of weapons under the Arms Act, but has been cleared of the more serious charge of being involved in a terrorist consipracy in the over-decade long trial of the 1993 Mumbai bomb blasts.
Meanwhile, the special TADA court on Thursday opened the report filed by a probation officer on some convicts, possibly including actor Sanjay Dutt, who had sought exemption from a prison term under the Probation of Offenders Act.
Special Public Prosecutor Ujjwal Nikam told reporters that the names of the accused whose reports had been presented by the probation officer were confidential.
But he said Dutt might be among the accused since those held guilty under the TADA and Customs Act cannot seek relief under POA.
Dutt is facing a prison term after being convicted by the TADA court under the Arms Act for illegal possession of an AK-56 rifle and a 9mm pistol. He has sought exemption from a prison term under the POA.
All those convicted who were on bail, including Dutt, have been summoned by the court to appear before it on June 14 after which it may start awarding them sentences.
Photograph: Arun Patil