Home > News

Maharashtra CM thanks Thackeray for backing Pratibha

July 18, 2007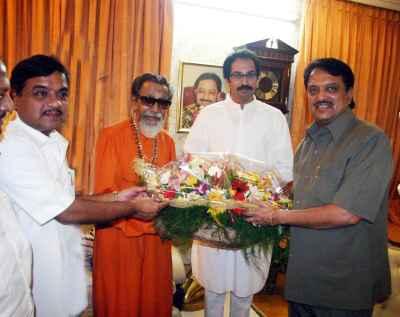 A day ahead of the Presidential election, Maharashtra Chief Minister Vilasrao Deshmukh and Deputy Chief Minister R R Patil on Wednesday called on Shiv Sena chief Bal Thackeray and his son Uddhav at the latters' home in Matoshree in Bandra East.
The Shiv Sena has broken ranks with the National Democratic Alliance over the Presidential election, choosing to back the United Progressive Alliance's candidate Pratibha Patil over the NDA's own, Vice President Bhairon Singh Shekhawat.
Bal Thackeray had announced that the decision to go separately was taken in view of Patil's Maharashtrian antecedents.
There has been speculation if Pratibha Patil, who has been visiting various states to acknowledge and canvass support for her candidature, would visit Maharashtra, and when she did if she will call on Bal Thackeray to thank him for his party's support for her. Patil, however, has chosen to give her home-state a miss.
Deshmukh and Patil's visit to the Thackeray residence, most likely the first by the CM and Dy CM, lasted about an hour and was marked by bonhomie. And why not? The Congress party has almost managed to wreck the saffron alliance, which is its biggest threat in Maharashtra, over its Presidential candidate.
Photograph: Arun Patil