Home > News

Pro-Haneef protest SIMmers in Sydney

July 18, 2007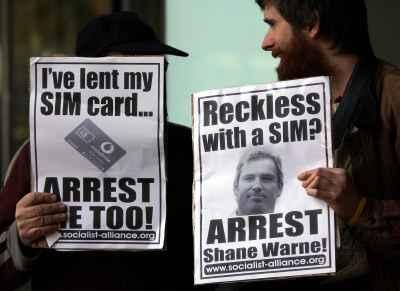 An organisation called the Socialist Alliance protested the detention of Indian doctor Mohammed Haneef in Australia in connection with the failed terror plot in Britain.
Calling for Haneef's release, the protestors, who demonstrated outside the Immigration Department in Sydney, displayed placards referring to cricketer Shane Warne's [Images] mobile phone text messaging scandal.
A court granted Haneef bail on Monday on the grounds that there was no evidence of a direct link to the attacks but the Australian government immediately revoked his visa, ensuring that he would remain in detention.
Photograph: Greg Wood/AFP/Getty Images