Home > News

A tattoo as a statement of love

July 16, 2007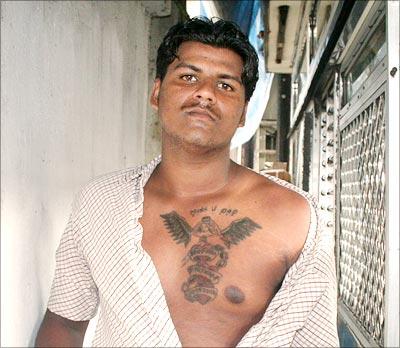 Children of 11/7 Series: 'Papa was the best' | 'I cry sometimes' | 'They miss him'
At first glance, Mahindra Dillaud looks like just another Mumbai youngster.
The 20-year-old final year BSc student at S N College in Bhayander, a satellite town near Mumbai, travels by train though his mother gives him money to travel by autorickshaw. And he wants to join India's booming software industry after graduation.
You need to know him a little more to realise what makes Mahindra different.
He has a tattoo across his chest, which reads: 'Miss you Dad'. His father Rajendra Dillaud's date of birth and date of death follow.
The date of death reads '11.7.2006' -- the day bombs ripped apart Mumbai's lifeline and left a trail of devastation, mangled flesh and blood on the tracks.
Initially, Mahindra wanted a tattoo as a fashion statement. But after his father's death on 11/7, he wanted a tattoo as a statement of love.
Didn't the tattoo hurt? "It was bearable," he says with a smile; a smile that says a lot without a word spoken.
Rajendra Dillaud was a railway canteen contractor; his father Ramkishen had started the business. On July 11, 2006, Rajendra, 45, left for home from the Borivali station, after checking the accounts at one of the six canteens -- two in Vasai, a satellite town near Mumbai, one each in Mankhurd, northeast Mumbai, and Titwalla, another satellite town near Mumbai, and two in Borivali, northwest Mumbai -- owned by the family.
He was killed in the blast near the Mira Road station on a Virar-bound local train. When his family reached the Bhaktivedanta Hospital, he was dead.
Ever since, Mahindra's mother Darshanadevi doesn't want her three children -- Mahindra, his sister Hemlatha, 19, and brother Devendra, 13 -- to travel by train. She gets anxious each time they travel by public transport.
Like her brother, Hemlatha, a Class 12 student at the St Francis High School in Bhayander, is made of sterner stuff. She too travels by train every day.
Mahindra now manages the canteens with the help of his grandfather and his father's elder brother.
The railways gave the family a compensation of Rs 500,000. Helping Hand, a non-governmental organisation run by advocates, helped them get the compensation. Rajendra's life insurance gave the family about Rs 200,000; the Life Insurance Corporation did not make the family run around for the money, they say.
But money was least on the family's mind.
"Mom misses my father the most," says Mahindra. "My mother is now the head of the family; I make it a point to do what she says," he adds. "My father was closest to my younger brother. He used to listen to everything my sister said. He made sure he fulfilled her every wish."
When the railways announced a job for the victims' kin, Hemlatha applied, and was given a class 'D' job as a cleaner. She refused.
As the only daughter, she had been brought up with lot of love and luxuries. The family felt it would be humiliating for her -- and her father's memory -- to work as a cleaner probably on the same platform where the family runs a canteen.
She feels she deserves a clerical job. The railways have said they will let the family know if it is possible.
Local NGOs have promised to find her a better job, as has a doctor who heads an NGO that is helping the family.
After her Class 12th final examination, Hemlatha plans to enrol in a diploma course in computers or fashion design. She has also cleared the entrance test conducted by the Frankfinn Institute, a company that trains air-hostesses.
Mahindra's tattoo also has an angel blessing him. "An angel who is praying to god to bless his father," says Sunil Pai, the artist who created the tattoo.
"We miss him a lot," Mahindra says about his father. "He was more a friend than a father. He was jovial; he could see humour in any situation."
Text: A Ganesh Nadar | Photograph: Uday Kuckien