Home > News > Report

Driving a death train

A Ganesh Nadar in Mumbai | July 12, 2007 14:54 IST



July 11, 2006, started out as just another day on the job for Om Prakash Gupta, a Western Railway motorman.

He reported for duty at 5 pm and was asked to drive the 5.37 pm Virar fast local train from Churchgate station.

It was a normal journey till the western Mumbai suburb of Kandivali for Gupta, who joined the railways in 1992. He had studied up to the 12th standard and then done a diploma in electrical engineering. The railways trained him to drive a train after he took a railways examination and was selected.

"We were entering Borivali station when I heard the blast," says Gupta, who is originally from Kanpur, is married and has two school-going children.

On an average he works six and a half hours a day. He has no weekly holiday. His is a job with great responsibility -- there are 4,000 people riding with him at any given time.

And his sense of responsibility was tested when terror struck.

"I had already applied the brakes," says Gupta. "I thought something had happened on the platform. I looked back and saw smoke coming out of my train. I grabbed the fire extinguisher from my cabin and rushed back. The extinguisher was of no use. There was no fire.

"I came back to my cabin to use the wireless communicator," he continues. "I informed the control room as we are trained to do in an emergency.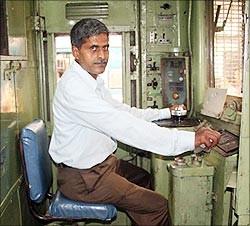 "When I went back, the public had started helping the injured. The train was then checked by the bomb squad to make sure there weren't any more explosives. At 3 am they allowed me to move the train.
"As none of the motor coaches had been affected I took the train to the Kandivali carshed. Next morning I drove a local train from Borivali to Churchgate. Only after that did I go home.

"Next day I was back at work. It was the first accident in my service. Every two to three months we get suicide cases. It has happened in my train too. We try to save them but sometimes it is not possible. They jump in front of the train at the last moment. We cannot do anything.

"Some people who cross tracks also get killed but they are a minority. The majority of deaths on the tracks are suicide cases. No animals have come on my tracks but my colleagues have had that problem.
"For a few days after the blasts I was worried and nervous. This lasted for two months. But it was only when I was on duty. After that it became normal. The initial fears disappeared.

"On the first day (after 11/7) my family was worried till I phoned them. Now they don't worry. I will not make my children motormen or drivers. It depends on how well they study. They will get better jobs than me.

"After the blast I gave a written report to the railways. The Anti-Terrorism Squad has called me four times. They questioned me about whether I had seen anyone suspicious or any suspicious object. It is not possible for me to see anything. We are isolated from the passengers," he adds.

After finishing his duties for the day Gupta agreed to pose for us in his train cabin. He looked confident in his regular seat. He would drive as usual, blast or no blast, rain or sunshine.
Image: Om Prakash Gupta | Photograph: Uday Kuckian