Home > News > Report

How 11/7 broke a cop's family

A Ganesh Nadar in Mumbai | July 12, 2007 13:12 IST
Last Updated: July 12, 2007 13:59 IST



Among the 187 people who were killed in the train blasts on July 11, 2006, were two policemen: Sub Inspector Suresh Pawar and Constable Shashikant Badekar. 

Shashikant, who was attached to the DM Marg police station, had to execute a warrant in Bandra on that day and got into a local train for the suburb. It was his last journey.

It's been one year since Shashikant left his his wife Jayashree, four-year-old son Abhishek and two-year-old Aditi.

Jayashree, a political science graduate who is now learning computers, had to earn and look after the kids.

The railways gave her Rs 5 lakh in compensation and the police department twice the amount.

Her husband held a few insurance policies but did not tell her about them. Now, she does not know where the papers are.

When the railways promised Class D jobs to the nearest kin of the victims, Jayashree refused to take it up. But the officials convinced her that once she joins she can appear for exams and get promoted to another cadre.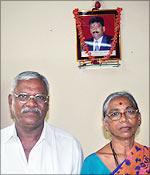 She told them that since her kids were very young, she couldn't take up the job. Nonetheless, the department appointed her and has given her an extension of six months. The police have also promised her a job. They have said she will be employed as a clerk but has put her on a waiting list.
She has put her children in school. Abhishek is in the first standard and Aditi is in nursery.
Shashikant's mother Kusum had tears in her eyes as she related the story of her son. His father Sudham Badekar brought out an album that showed their late son receiving a certificate from the police commissioner.
The father said, "He was very strong. He could take on ten people at a time. He was very brave. After all he was the son of a cop, and had an elder brother who was also a cop."
"Now is the first anniversary, it has been a difficult year. Fate cheated us," she broke down.
Shashikant's departure also seems to have divided the two families.
His parents claim that 22 days after his death Jayashree said she was going to her parents' house to get her certificates to apply for a job. She never came back, they say.
The family says the money that she got as compensation could have been behind her severing ties with her in-laws.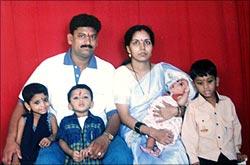 Her father, a retired assistant commissioner of police, however says Shashikant's parents did not treat Jayashree well.
"My being a retired ACP is not a big deal for Jayashree's in-laws. They are all policemen. They have behaved badly with my daughter from day one. So far she tolerated because her husband was there. Now she does not like it there and she does not have to tolerate them," Valmik B Vaydande, her father, said.
Kusum, however, denies this, and says they had in fact gone to Jayashree's home four times to see their daughter-in law and their grandchildren.
She says Jayashree asked them to get a court order to see the children.
"I cannot see my own son's children. They are the only reminders of our son and she has separated them from us. The children were inseparable from us when they were here. All she is interested is the money," the mother-in-law accused.
When asked about the claims of both the families, Jayashree refused to comment. "Please ask me about other things. Do not talk about our family matters," she said.
Images: Top: Sudham and Kusum Badekar | Bottom: Shashikant Badekar with his wife Jayshree and kids
Photographs: Uday Kuckian